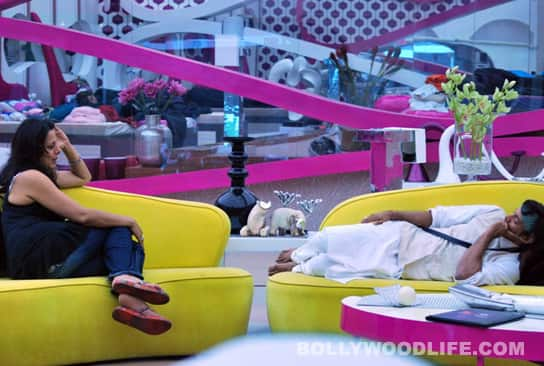 skip advertisement
Sky-and-Pooja-Bedi-bond-171111
Read on to know how that happens on Day 46
Mahek Chahal and Siddharth Bhardwaj continue their fight from the previous night. Mahek calls Sidharth a baby and tells himthat she has been silently watching his indecent behavior from days now but did not want to tell him anything thinking he is a kid. When Sky finally sends Siddharth to jail, Mahek is happy and she tells Sky he is a fair captain. Once Siddharth is out of jail, it is Mahek's turn to go inside. She does go in but comes out in a short while and refuses to go back. She fights with Sky and tells him she will go back only if he jails Siddharth again. Sky gets irritated and he refuses to go ahead with the weekly task.
Sky discusses the problem with Amar Upadhyay, who gives him the idea to jail both Mahek and Siddharth together. Sky agrees and does exactly that. After being inside the jail for a while, Siddharth realises that fighting with everyone around is not a good idea. He tries to sort out his differences with Pooja Misrra and talks to her. When she returns after talking to Siddharth, Sky tries to sweet talk her into becoming a part of his team. Pooja Misrra patiently listens to all that Sky has to say and goes back to having her own way.
Sky has been strategising for a long time on ways to win the weekly task. He thinks if even one of Amar's team members join his team, he can walk away with the luxury budget and have Amar nominated for this week's eviction. So he tells Amar that Mahek is a difficult and stubborn person, so it will be good for Amar if he shifts Mahek from his team to Sky's team. Once Sky leaves, Amar laughs it off and voices his opinion about Sky being nothing but an idiot.
Pooja Misrra has been trying to convince everyone to let bygones be bygones and bond with all of them. She meets Vida Samadzai and sorts her differences with her. As she advances towards the washroom, she meets Mahek. Mahek tells Pooja Misrra that she hates the way Sky and Siddharth treat the women in the house, and that Sky is indeed a very rude captain. Pooja Misrra agrees and both hug each other. They talk later in the night about everything that's been going wrong with Pooja Misrra. Vida joins them and the three have a lot of fun. Pooja reveals she wants to be captain and asks Vida to support her.