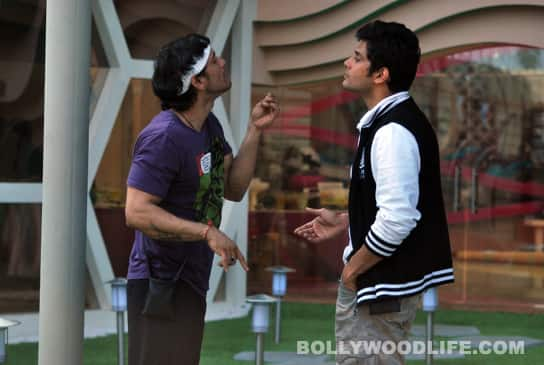 skip advertisement
Sky-explaning-Amar-311011
New games are being played in the Bigg Boss 5 house after Shakti Kapoor's eviction
Following Shakti Kapoor's eviction, Siddharth, Shraddha and Vida were inconsolable. To cheer the trio, the other housemates planned a game in captain Shonali's room allowing everyone to say whatever was on their mind about the goingson inside the house. Amar said that he believed Mandeep was masterminding a major plan and was creating a rift among people inside the house. Everyone else present in the room agreed with this view. Soon after the game, Amar approached Mandeep and told her that he called her a mastermind only to see how everyone would react to the claim. He also revealed that Sky (Akashdeep) and Siddharth were plotting against her and have decided to nominate her for the upcoming eviction. Mandeep approached the rest of the housemates and shared details of her conversation with Amar. Hearing this, all were miffed with Amar for trying to instigate Mandeep against other housemates.
The next day starts with nominations. Contestants are asked to nominate two people. Every contestant heads to the confession room to name two people they would like to nominate. Votes are counted and the nominations for the week are announced. Sky approaches Lakshmi and tells her to stop playing games and reveal her true side to her fellow contestants. Hearing the argument, Juhi decides to take a stand. She tells Sky, Lakshmi and Shonali that Mandeep is masterminding a gameplan to try to get the contestants to fight among each other. She also points out that Mandeep doesn't contribute towards household work and is thus provoking a fight by pushing everyone over the edge. Sky walks up to Mandeep and tells her what is being said about her. He also tells her that he supports her and believes that she is a very good person with a clean heart.
Later, the contestants got together and ganged up against Amar. They blamed him for causing trouble among all the contestants. In true Bigg Boss fashion, without letting him justify himself, the contestants continued to talk about his actions and made comments about his personality. Hearing all the commotion over her 'son', Lakshmi broke down and confessed to the housemates that she couldn't believe that Amar was playing these games to survive in the house. Sky noticed that Mahek was still talking to Amar while the rest of the house was against him. When he confronted her about it, Mahek told him that she was only trying to convince Amar to apologize to the housemates and try to get back into their good books. Sky also took on Pooja Misrra about her actions and mocked her repeatedly about her aggressive behaviour which was not expected out of her considering she was a woman. Hearing the pot-shots that Sky was taking at Pooja Misrra, Sidharth also joined in for some fun. In an attempt to make amends, Sky had a word in private with Amar and told him that his behaviour was not correct. He told Amar that he needed to apologize to the housemates, to which Amar readily agreed. Seeing that Amar was making amends, Pooja Misrra tried to talk to Mahek and apologize for her prior aggressive behaviour. However, Mahek was in no mood to listen. She continuously reminded her about her attempts to cool Pooja Misrra down after the violent broom-breaking incident, but getting snapped back at in return. Pooja Misrra soon realised that her attempt was not going to bear any fruits and walked away.
To be a part of the action, don't miss presents Bigg Boss 5 at 10.30pm only on Colors
ALSO READ: