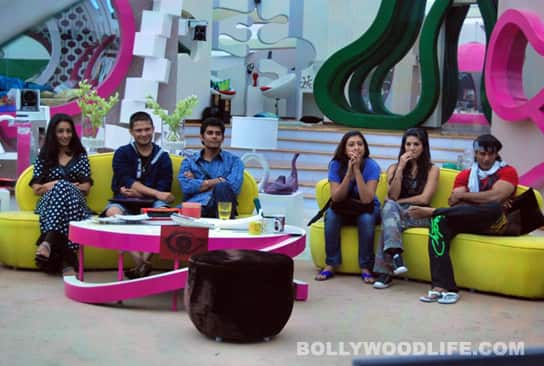 skip advertisement
Day 87 is a surprisingly calm day in the Bigg Boss 5 house
The day begins with the Tunak tunak song which has the two Punjabi housemates – Mahek Chahal and Sunny Leone starting a conversation. They discuss Sunny's extended family who live in a remote part of Punjab. Later in the day, Amar Upadhyay, Siddharth Bhardwaj and Mahek speculate on who will be eliminated. The three also discuss Sky and claim he has lost his bulky physique after entering the house so he will definitely use steroids to regain it once he's out. Later Sunny tells Sky how she used to watch all the fights before she entered the show, and how Pooja Misrra remained composed throughout all the fights.
Bigg Boss gives the housemates a chance to watch one of their moments in the house. Amar gets to watch his fight with Pooja Misrra over bangles. After watching the clip, Amar gets upset about the fight and apologises to everyone for all his fights with them. He says he agrees with Salman Khan's observation that the fights are silly. He feels awkward after his apology and goes away to the garden. Sky follows him and says all of them have done similar things and there is no need to feel awkward.
Sky talks to Mahek, Amar and Siddharth how Juhi Parmar's statements about him being insulted too many times had triggered his wish to leave the show the previous weekend. Mahek tells Sky that everything that happens on the show is fair and there is no bias for or against any contestant.
In the evening, Juhi watches a clip about her jail task. Sky gets the feeling that Amar and Siddharth have received a secret task and he passes on his suspicion to Juhi before everyone goes to bed.