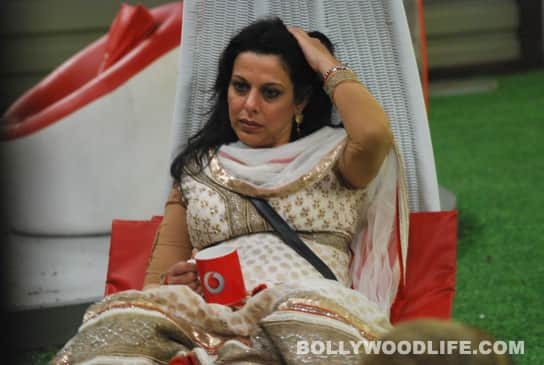 Pooja Bedi, the latest to be evicted from the Bigg Boss 5 house, says there is a lot of fun and happiness in the house and only 20 percent of it is shown on TV
"I want to tell the audience, what has been shown on television is completely different from the inside atmosphere. There is a lot of happiness and fun inside the house, the aggression is just 20 percent of it," Pooja told after coming out of the house. "We used to laugh like mad people and there was no end to the funny jokes. But, off late things had become critical and it was hard to survive in such situations," she added. Known for her Marilyn Monroe skirt act in Jo Jeeta Wohi Sikander, Pooja Bedi has participated in many reality shows before like Jhalak Dikhhla Jaa 1 , Nach Baliye 3, Fear Factor – Khatron Ke Khiladi 1 and Maa Exchange.
The 41-year-old is elated to leave the show at the right time, "I am the happiest person in this world after leaving this house because I know a lot of aggression and negative atmosphere have started building up and it was the right time to leave the house." According to Pooja, her best friends inside the house were Juhi Parmar and Akashdeep Saigal aka Sky, and claims Mahek Chahal and Amar Upadhyay are the ones who used to pick up fights. "Mahek and Amar bring along a lot of negativity inside the house while Juhi and Sky are my sweethearts. They both have very good heart, even though, they seem very aggressive and dominating people. But, they are exactly opposite and I wish them all the best and may they win the show," said Pooja. She later said on a micro-blogging site, "Mahek Chahel is non-stop negative energy! The vulture who hungers and hankers for fights constantly! thrives on it for sympathy! does it show?" She further adds Juhi and Sky were the nicest people in there! "I don't differentiate between genders in friendship.. Sad so many oppose it.  Also… For the record…Sky is a super nice guy and fab friend! He's strong enough 2 take on fights & expose the awful manipulators in there. Startled to see Sky projected so villainously! 24 hours of programming condenses into 45 minutes of structured editing for your viewing."
Meanwhile, Pooja had also become a huge fan of the latest entrant of the show, porn star Sunny Leone, and says she is sweetest of them all. "She is sweet, bubbly and very polite. Her career should never be considered as an option to judge people and if she is doing great in the house, people will definitely vote for her," she said. After coming out of the house, Pooja wants to spent quality time with her two children – Aalia and Omar.  "I was so desperate to meet my kids and now I am with them, I don't want any third person between us. I want to spend quality time with them," said Pooja who is also looking forward to participate in many such reality shows in future. "Bigg Boss 5 was an exciting experience for me and I am definitely looking forward to participate in many such reality shows that can bring out my hidden strength and ability to deal with tough situations," she added.