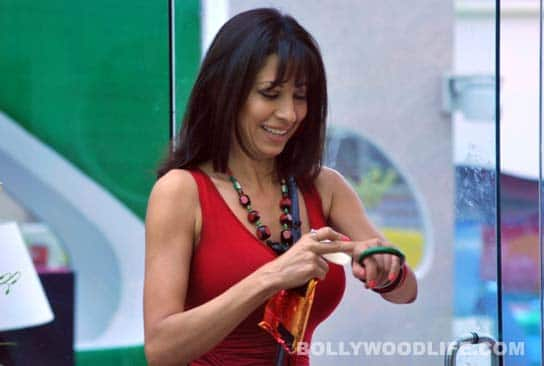 skip advertisement
The situation in the house takes a turn for the worse after Swami Agnivesh and Lakshmi Tripathi's exits. Read on to know who fought with whom on Day 43
The previous night, Pooja Misrra locked herself up inside the bathroom for close to three hours. This stuns the entire house. Since Sky is the captain of the house, he takes up the responsibility of approaching Pooja Misrra and questioning her about her act. Pooja Misrra tells him to get lost. That night, the entire house goes to sleep fearful that Pooja Misrra has been possessed by a ghost.
The next day, Pooja Bedi talks to Sky about Pooja Misrra. She tells him that Pooja Misrra is angry with him. Sky puts his ego aside and walks up to Pooja Misrra and tries to clarify their differences. A stubborn Pooja Misrra walks away and says that she is not interested in talking to him. After sometime, Pooja Misrra is seen speaking about how people in the house are hypnotising her and turning her innocent soul into a violent one to get everyone against her. She is also seen bitching about Sky to Pooja Bedi, saying that he is instigating her to fight with Shraddha Sharma and Vida Samadzai.
Pooja Misrra explains to Amar Upadhyay that she was only doing pranayam (breathing exercises) in the loo, but everyone misunderstood her and thought she is practising black magic. Siddharth Bhardwaj tries to reason with Pooja Misrra about her behaviour, but he just ends up feeling so frustrated that he yells at her that he will make sure nobody in the house talks to her.
Weekly nominations take place. Captain Sky's special nomination turns out to be a surprise nomination for the entire house. Post the nominations the non-nominated contestants are seen bonding with each other and celebrating their victory of relief for the week. After a while, Siddharth goes to the smoking room where he finds Pooja Misrra. He tries to enter the room but Pooja Misrra slams the door really hard on his face. Siddharth loses his temper and runs in to the house to tell everyone what happened. He warns everybody to stay away from him as he is going to get back at her. The two get into a very nasty fight, so much so that Siddharth almost kicks her. The housemates intervene and with great difficulty calm Siddharth down.
Post this violent outburst, Pooja Misrra goes to her bed and starts meditating. Mahek Chahal comes to offer her support. She consoles Pooja Misrra by saying that she can understand what she is going through right now and just wants her to know that she will be there if she needs a person to talk to. After that, Vida informs the green room inhabitants that Pooja Misrra is changing her room. Everyone breathes a sigh of relief. The day ends and all the housemates go to sleep but restless and tense