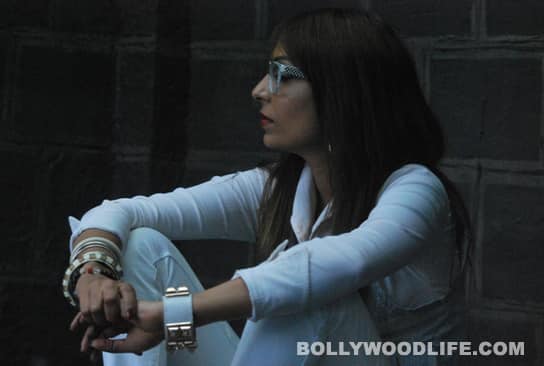 skip advertisement
Shocked? Well, that's not the only exciting thing happening in the Bigg Boss 5 house. Read on to know what happens on Day 45
Sky and Siddharth Bhardwaj pick on Pooja Misrra for consuming too many eggs on a regular basis. In his capacity as captain, Sky tells her that if  she doesn't stop this bad habit, he will send her to jail.  An angry Pooja Misrra retaliates by announcing to the rest of the housemates that she will be on maun vrat (vow of silence) the entire day in order to stop being everyone's target.
Vida Samadzai approaches Amar Upadhyay and tells him that she wants to clarify a few things regarding her nomination. While they get into an intense conversation, Siddharth and Sky interfere and start instigating Amar against Vida. The duo has some success as Vida gets a little emotional. Post their departure Amar manages to convince Vida a little bit.
Some time later, Sky and Shonali Nagrani relax in the captain's room and discussg the happenings of the house. While both are at it, Pooja Misrra storms in and barges into the restroom without his permission. An angry Sky comes out and tells the rest of the housemates that going into the captain's restroom without prior permission is against the Bigg Boss house rules. So he walks back into his room, enters the restroom and forcefully pulls Pooja Misrra out and tells her that her behaviour is not acceptable. An angry Pooja Misrra complains to Amar that her elbow was hurt when Sky forcefully opened the door. Amar intervenes and tells her that she needs to take the captain's permission for using his loo. Pooja creates a big scene as usual and shouts that she will make everyone suffer for this brutal behaviour against her. An agitated Sky sends her to jail as a punishment for her obnoxious behavior.
Later in the day, Bigg Boss calls the phone assigned in the house for the 'Rajneeti' task. Coincidently, Sky answers the phone call and figures that he needs to send one of his party members to the other party. Pooja Misrra is released from jail. The daily task is announced and everyone is excited about it. Once the task ends, Siddharth and Mahek Chahal get into a very ugly fight. Mahek instigates Siddharth by insulting his family and Siddharth gets extremely angry. The housemates intervene and calm things down. The day comes to an end as Sky and Pooja Bedi hug and make up with Pooja Misrra. The diplomatic duo seems to be keeping everyone in their control.