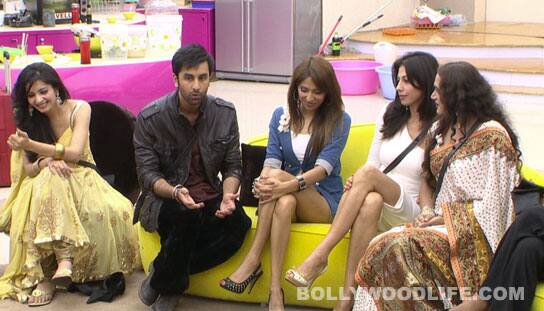 skip advertisement
Ranbir-with-the-ladies-301011
While one actor came to promote his upcoming film, the other became the first male contestant to be evicted
Bigg Boss Season 5 kicked off with 13 female contestants and one male contestant. Now, as the show completes its fourth week, the equation has definitely changed – with the house currently hosting nine female contestants and four male contestants. After three female contestants – Gulabo Sapera, Raageshwari Loomba, Nihita Biswas – were evicted, and one contestant – Sonika Kaliraman – voluntarily quit the show, this week threw up a surprise when Shakti Kapoor became the first male contestant to be evicted from the house. Mahek Chahal, Pooja Bedi and Shraddha Sharma had also been nominated for eviction, but Bigg Boss chose Shakti.
Shakti Kapoor was the only male inside the house for the first week of Bigg Boss Season 5. While his reputation of being a ladies' man preceded him, Shakti changed everyone's minds and emerged as the father-figure of the house. He stayed away from conflict and chose to remain neutral as often as possible. Shakti always maintained that he missed the company of his family during the show and was happy to prove to them that he could lead a happy life without his daily dose of alcohol. During his stay in the house, Shakti bonded with both the male and female contestants. While in the first three weeks, Shakti was able to win hearts, his strategy of influencing housemates to nominate each other was revealed during his final week in the house and the ever-diplomatic Shakti was put in the midst of controversy.
Meanwhile, it was not only sorrow in the house. There was a lot of excitement as Ranbir Kapoor entered the house and met the contestants. As expected, there was a lot of swooning as the Kapoor lad impressed the ladies. Ranbir had entered the house to promote his upcoming film, Rockstar. He chatted with the ladies, spoke about his film and their experiences in the house, and danced with Lakshmi an Mahek. All in all, the housemates had a lovely time, and a welcome break from the hostilities of the house.