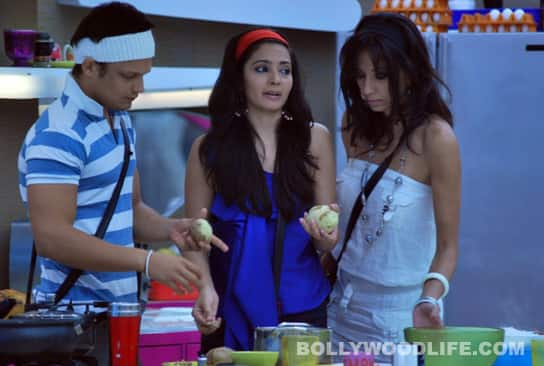 skip advertisement
Read on to know what happens on Day 44 in the Bigg Boss house
Pooja Misrra vents her anger about the previous day's fight with Siddharth Bhardwaj to Pooja Bedi! Pooja Misrra points out that Siddharth was the first to misbehave with her first and abuse her family. Pooja Bedi tells Misrra that it was the latter's fault which aggravated Siddharth's anger. Bigg Boss announces the weekly task. The entire house works together to prepare for the task and await the final go ahead for the task. Pooja Bedi, Sky and Juhi Parmar are seen bonding with each other and discussing how they can bring down Amar Upadhyay with the weekly task.
Shonali Nagrani is upset ever since she hears she's been nominated. She finds a consoling shoulder in Siddharth and tells him how Sky has been playing double games. Vida Samadzai joins them and consoles Shonali. Shonali tells Siddharth that she has been aware of Sky's games since the day he entered the house and all her fears have come true. Siddharth advises Shonali to talk to Sky and adds that she should not feel bad about her nomination. Shonali retaliates and asks Siddharth why he did not stop Sky from nominating her name.
Bigg Boss then gives out the Code of Conduct letter to the housemates re-iterating the rules of the house, and adds that the housemates should come up with 10 more rules that everyone will follow.  All of them work enthusiastically as a team to complete the task.  Pooja Misrra almost gets jailed as she defies a captain's rule made by Sky. Sky asks Pooja Misrra to go in the jail, but soon rethinks his decisions and decides it would be best if he does not mess with her anymore.
After dinner, Shonali is seen crying again over the nominations issue. She is still unable to digest the fact that Sky has nominated her name for next week's evictions.