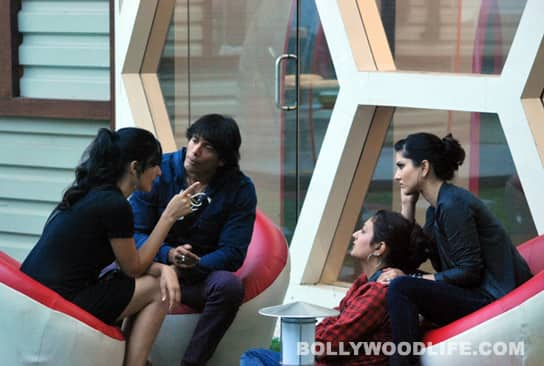 skip advertisement
Sky talks to Shonali_051211
Siddharth and Amar fight while Mahek sulks on Day 64 in the Bigg Boss house
The night Shraddha Sharma is eliminated, Mahek Chahal and Siddharth Bhardwaj discuss how upset they are as they had hoped Sunny Leone would be the one to go. The next day, the contestants find a helmet in the store room. They wonder if it is for Mahek to protect her head, or if wearing it will send someone to the safe zone, or if it is for a cricketer who will be entering the house next.
As the day progresses, Shonali Nagrani is upset with Sunny for playing games with her. Shonali tells Juhi Parmar that she will never trust Sunny again. Juhi tries to pacify her and explain that Shonali has misunderstood the situation. Sky comes and tells Shonali no to believe everyone. Later, Sky goes out and talks nicely to Amar Upadhyay so that he doesn't lose his hard-won trust and is able to get a better understanding of Amar's games.
In the evening, Amar, Siddharth, Shonali and Mahek discuss the coming week's evictions in the pink room when Sid taunts Amar and says he will be the one to leave next week. Amar shoots back that anyone, including Sid, can be eliminated. The two really start arguing – Amar calls Sid a loser and Sid tells Amar he is a flop hero of a bad show. The two argue fiercely and Sky is more than happy to see that when he enters the room. Amar walks out of the room, and meets Juhi, Sky and Sunny, who try to bond with him.
As the day ends, Shonali is seen back in her pink room. When Mahek asks her about it, she replies that she doesn't trust Sunny anymore and cannot bear to sleep in the same bed as her.