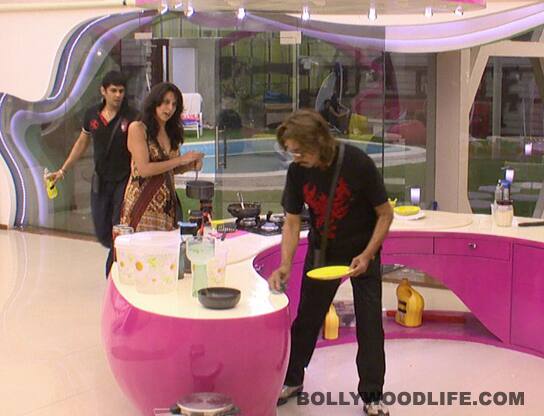 skip advertisement
Pooja-bedi-shakti-kapoor-3
It may be the peaceful festival of lights for us, but for the housemates of Bigg Boss 5, it is still the time for fights and back-biting. Read on to know what happens on Day 23
The day started with a big fight between Shraddha Sharma and Pooja Bedi over an omlette. Pooja Bedi seems to dislike Shraddha's cooking. The two argue and finally Pooja Bedi decides to make her own breakfast. After breakfast, Pooja Bedi and Juhi Parmar discussed Raageshwari Loomba's eviction and how the increase in fights since her exit must be affecting her. Shraddha involved herself in the conversation and a few heated words were exchanged between Pooja Bedi and Shraddha.
Bored with the negativity that 10 women and three men brought to the house, Vida Samadzai shared her disappointment with Bigg Boss and said she hoped more men entered the house soon so that the contestants could engage in something other than back-biting and hypocrisy.
A task was announced in the house where contestants were given masks, capes and gloves and were asked to come up with a superhero name and a super power. Contestants were also asked to perform to a song where Lakshmi Tripathi was made choreographer. While the song was playing and the contestants were performing, Sky aka Akashdeep Saigal entered the house in a superhero costume. When Sky entered, he danced seductively with Lakshmi and she pulled off his mask. After everyone had greeted him, the song continued and Sky also continued to dance with Lakshmi.
It seems that the newcomer got his first friend in the house. Lakshmi took Sky into a room and made him aware about the catfights going on in the house and warned him to stay away from the controversies. Sky, in turn, told her about what is going on in the outside world.
Another fight broke out between Pooja Bedi and Shraddha when the latter called her aunty. Pooja Bedi asked Shakti to support her on this but he completely ignored her which caused her to lose her temper and share her woes with Amar Upadhyay. Shakti had decided not to talk to any woman in the house therefore he didn't reply to Pooja Bedi but Pooja Bedi believes that Shakti doesn't respect her and their 22-year-old friendship. Shonali Nagrani tried to calm Pooja Bedi down but she yelled at her too and tried to portray Shakti negatively.
The weekly task was announced. To celebrate Diwali, the contestants were split into teams of two and asked to make candles. The team that will achieve the target of making 500 candles first, will be declared winner of the task.