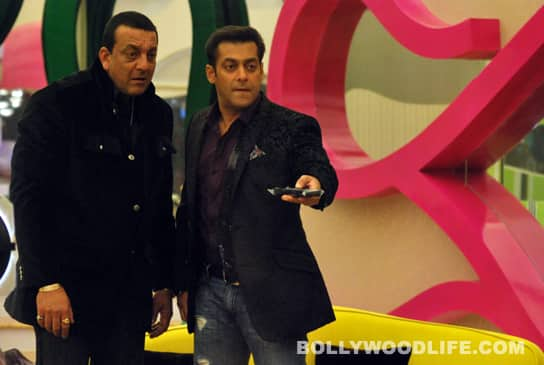 Read on to know what happens on Day 3
The weekly task (Pahiya Ghumao, Kismat Chamkao – where they have to ride a rickshaw to different cities) continues. The contestants complain and curse about their decision to participate in Bigg Boss 5. They are extremely tired and exhausted from cycling day and night to reach their next destination and complete the task. After all the complaining, the contestants finally reach Lucknow. As a part of the performance, Shakti Kapoor is dressed as a nawab while the others are dressed as Mujra dancers who try to entice the Nawab with their adas. Shakti is also assigned as a judge for this performance and he has to decide who the best and worst dancers are.
Sonika Kaaliraaman has a new task at hand – getting rid of a little bird that has flown into the house. While the bird keeps dodging her, Sonika asks Mandeep for help to get rid of the bird, but one look at the little thing and Mandeep hides in one of the bedrooms. A frantic Mandeep then reveals to Sonika that she has a deathly phobia of birds in an enclosed atmosphere. The wrestler can't stop laughing at her misery.
The constant ragging causes the so-called head-strong contestant, Mandeep, to cry in front of Bigg Boss. She continues crying even after coming out of the confession room where she is consoled by the other contestants. Shakti Kapoor and Nihita Biswas have their first argument because Shakti is furious that Nihita is comparing herself to others and refusing to participate actively in the weekly task.
Later in the day, Pooja Misrra breaks down, saying that she feels targeted and completely misunderstood in the house. While Pooja feels hurt, Shonali is being highly appreciated by the contestants in the house for her helpful and cheerful personality. Feeling overwhelmed, Shonali also breaks down, being unable to accept all this positive feedback from her co-contestants. The contestants are told to provide their fellow contestants with feedback in one sentence or one word. Mandeep is appointed as a judge for this task. The contestants, however, are unable to follow the rules of the task due to which, Mandeep is punished.
Vida Samadzai is taken aback when she realizes that while she has limited friends outside the house, all contestants inside the house are being extremely friendly towards her and are willing to be her friends. This makes her extremely happy and she cries tears of joy.
Later in the night, Shraddha Sharma starts applying heavy makeup. When Shakti asks her why she is doing so, Shraddha replies it is for him. She wants to ensure that even if Shakti wakes up in the middle of the night to get himself a glass of water, he will see her looking beautiful for him.