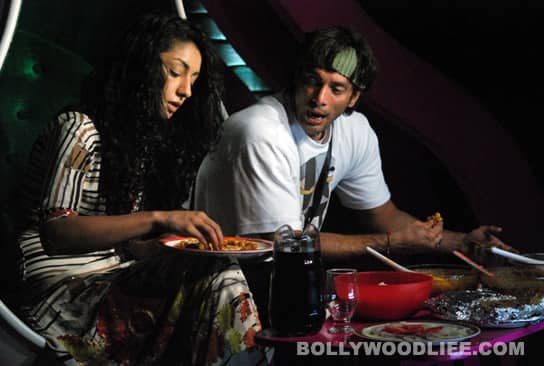 skip advertisement
Foes become friends on Day 59 in the Bigg Boss 5 house
Early in the morning, Mahek Chahal and Shraddha Sharma sit in Mahek's room and discuss Amar Upadhyay and how he is plotting against every woman in the house. Mahek tells Shraddha that she has seen how Amar tells Sky everything he has discussed with the ladies. Shraddha agrees and says she too has noticed this two-faced behaviour for some time. As the two of them walk to the garden, Amar taunts them and says he knows they have been discussing him. Shraddha tells Amar that they have issues with him, but since he is their friend, he should sit with them and sort it out instead of taunting them. Amar tells Mahek that she has misunderstood him. He has not been playing games with them, rather he has been trying to find out what Sky is plotting. Meanwhile, in the kitchen, Sky and Siddharth Bhardwaj too discuss Amar, and how he has been switching loyalties often. Sky tells Sid that he has been hurt by Sid's actions. The two of them call a truce and decide they will not interfere in each other's matters.
Later in the day, Bigg Boss calls Sky and Mahek into the confession room for a lavish lunch, and asks them to sort out their differences. That does not happen. Mahek breaks down and Sky accuses her of turning on the tears for sympathy votes. Sky walks out of the room and tells Sid and Shonali Nagrani about what happened. Sid gets upset that he was never given such a chance by Bigg Boss. However, Shonali points out to him that he has never been in a constant fight with anyone in the house, the way Sky and Mahek have been. Even Shraddha adds that Bigg Boss has been very fair to Sid, especially when he evicted Pooja Misrra because she assaulted Sid.
Much later, Mahek and Shraddha discuss Mahek's argument with Sky in the confession room, and Mahek starts crying  again. She then has a talk with Sky in the garden and the two sort their issues out. Sky asks Mahek to let bygones be bygones and not dwell in their past but live for the future and the two shake hands. Sky, Mahek, Amar, Juhi Parmar and Sunny Leone laugh at all the fights in the past.