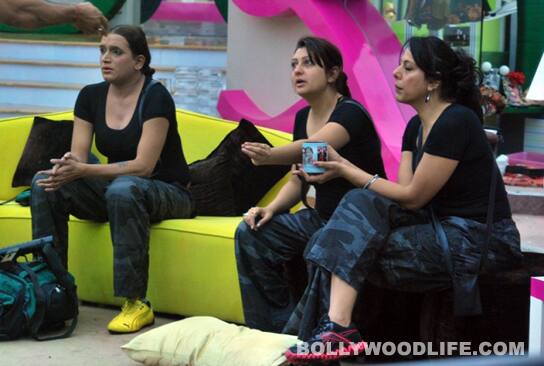 skip advertisement
Juhi upset with Pooja Misrra
Read on to know who became friends and whose friendship broke down on Day 33 in the Bigg Boss 5 house
The day starts with Amar Upadhyay urging Sky and Siddharth Bhardwaj to eat some food. He is willing to talk to Vida Samadzai and convince her to join them. Sky is adamant that Vida should tell Siddharth that she won't eat till he eats. Siddharth is adamant to prove that his mannerisms are not childish. He continues to talk to Vida over their dinner argument over dal. While they manage to end their fight over dal, Siddharth still gives Vida grief over being in India and liking Indians. Vida in turn retorts how much she loves India and how she avoided Hollywood just to be in India.
In the meantime, Juhi Parmar loses her cool as she has an argument with Pooja Missra over a minor dishwashing issue. She bitches about Pooja to other housemates and tells them, how she has always stood by Pooja Missra, but now Pooja Misrra refuses to listen to anything that Juhi has to say. Captain nominations take place in the house. During the nominations, we see Juhi making a last-minute decision to not for Pooja Misrra.
Sky claims that people in the house have a problem with him as he is honest. Sky confesses to Bigg Boss that he does not want to be a part of the Bigg Boss house anymore. He says he wants to leave the house since he thinks Mahek Chahal's issue was not dealt with fairly and he wants justice.
Bigg Boss 5 airs every night at 10.30pm on Colors