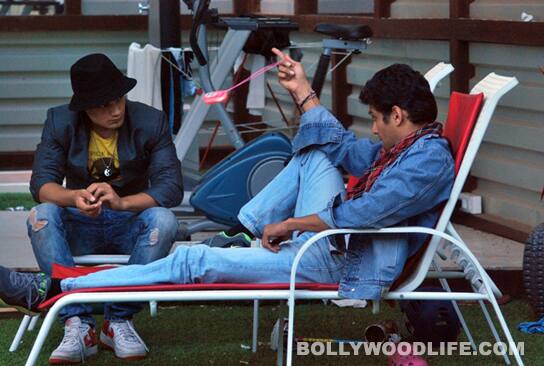 skip advertisement
Amar irritated with Sky_231211
The two fight it out on Day 82 in the Bigg Boss house
The day begins on a positive note. Sunny Leone and Sky chat happily while Siddharth Bhardwaj and Amar Upadhyay discuss how the two of them have been playing games lately. Later, the five discuss Amar and Juhi Parmar's dance from the previous day. Sky taunts Amar by asking the women if they thought Amar's dance was desperate. Amar shoots back that obviously the girls will agree, adding that Juhi, Sky and Sunny share a good chemistry. Sky doesn't stop his joke. When he and Amar have to play with telephones as part of their task, he again asks Amar what he would do if he wins the finale and tries to pull him down even more.
The rest of the day, Amar tries to avoid Sky, but the latter keeps following him around. When Amar refuses to sit and chat with Sky, he tells Amar that the Kyunki Saas Bhi Kabhi Bahu Thi actor should chat only with Siddharth all day long. Amar doesn't reply to that. In the afternoon, Amar enters the pink room and sees Sky chatting with the girls. On seeing Amar, Sky tells the girls that Amar thinks they are weaklings, but Amar shoots back that Sky is the one who has disrespected the women the most. Sky asks Juhi and she agrees with him. Angry, Amar accuses Sky of creating unnecessary drama and walks out.
Siddharth tries to talk to Amar about it but the latter does not open up to him. In the evening, the three guys have a lively discussion in the garden. Sky behaves as if he has forgotten the drama of the afternoon, which leaves Juhi confused.