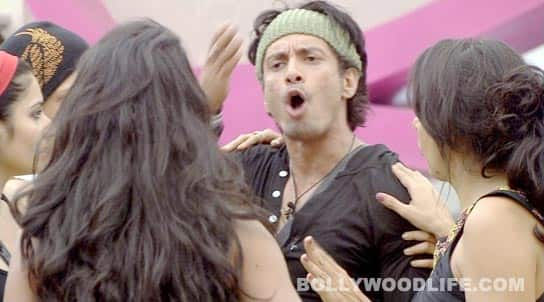 skip advertisement
Sky-Fights-with-Mahek-21111
Big fights are the norm between the Bigg Boss 5 housemates now
Day 31 starts with Bigg Boss assigning Pooja Misrra the task of selecting two people as candidates for captainship. After much deliberation and discussion with other contestants, Pooja names the two people out of whom the captain for the coming week will be elected. In the evening, an argument breaks out between Shraddha Sharma and Sky (Akashdeep). When Sky asks Shraddha who she would elect as the captain for the coming week, Shraddha tells him that her decision was only for Bigg Boss to know. This cheeky response irritates him because he feels he has asked a very simple question. Shraddha, however, ignores him and says that she was suffering from a stomach ache and doesn't want to talk about the captaincy nominations. Shraddha shares her conversation with Sky with the other housemates, who are impressed by her maturity in handling the situation without losing her cool. Post his argument with Shraddha, Sky approaches Amar with the same question. Amar, too, has no interest in disclosing his choice or continuing the conversation.
Near dinner time, a huge misunderstanding takes place which adds to the troubled atmosphere prevalent inside the Bigg Boss 5 house. Mahek is talking about Sky's personality to the housemates, which he happens to overhear. He tries to confront Mahek and the fight takes a turn for the worse. An enraged Sky starts pulling out the skeletons from Mahek's closet and provokes her to fight with him. Mahek loses her cool and lashes out at him. However, after a while, she breaks down and everyone helps her to her bedroom. Realising his folly, Sky apologises to Mahek but Mahek she is in no mood to listen.
As if the huge fight between Sky and Mahek was not enough, another misunderstanding takes place between Siddharth and Vida which leaves the housemates wondering whether fights would be the order of the day going forward.
Watch Bigg Boss 5 every night at 10.30pm on Colors
ALSO READ: