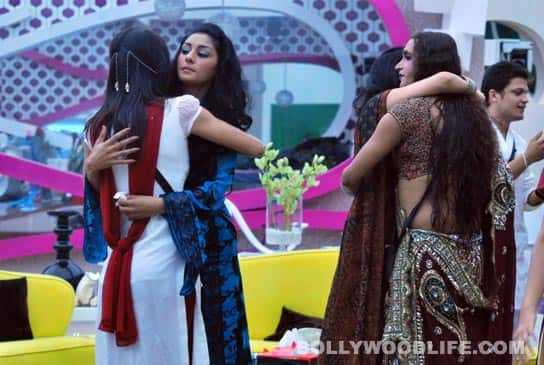 skip advertisement
Sky argues with Lakshmi, befriends the Chahal girl on Eid. Read on to know what else happened on Day 37 in the Bigg Boss 5 house
The day starts on a positive note. It's Eid and Sanjay Dutt sends special greetings and sweets to the contestants. All of them doll up for the festival. Vida Samadzai misses spending the day with her family and cries throughout the day. All the contestants try to make her stop crying, but in vain. During the day, Sky and Lakshmi have a minor argument, but they soon patch up. Then Sky and Mahek talk about their differences, and everything that happened the previous week. They forgive each other and become friends again.
However, the good mood doesn't last long. Bigg Boss assigns a funny task to the housemates. Shraddha Sharma, as the captain of the house, orders Pooja Misrra to do something. That doesn't go down well with Pooja and the two engage in a fight.
The day ends with Pooja Bedi and Juhi Parmar praising Sky for the positive way in which he has changed the atmosphere of the house. They like the way he is making everyone laugh.
Bigg Boss 5 airs every night at 10.30pm on Colors
BIGG BOSS 5: Swami Agnivesh excited to be on the show