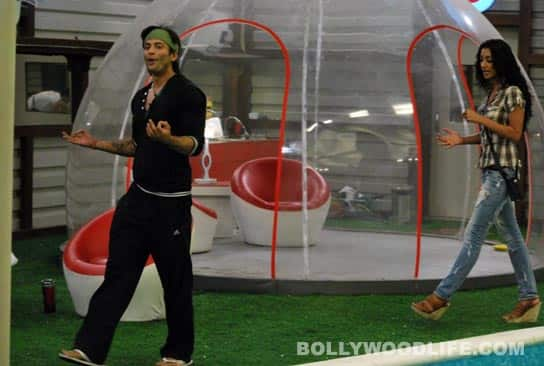 skip advertisement
Friendships are forged and broken as the tension rises on Day 58 in the Bigg Boss house
Amar Upadhyay, Siddharth Bhardwaj and Sky are talking in the garden when Sky starts telling Sid that he saw him and Shraddha Sharma holding hands. Sid says it was just a friendly gesture on Shraddha's part and Sky should not make fun of it. Sid is irritated and walks out. He enters the house and tells Shraddha what happened, explaining that Sky is just trying to spoil his image. Mahek Chahal explains to Shraddha that Juhi Parmar and Sky are playing a double game. Sky sees this and irritatedly, calls Siddharth an evil guy. He also threatens to reveal to everyone what Sid has been saying about them to him all these days. Juhi asks Shraddha to confront Sky and sort things out. Sharddha does that and realises the truth. She breaks down and Sky explains to Shraddha it was just a joke. 
Sky fights with Siddharth over everything that's been going wrong so far and blame each other for the events. They also yell about the fight with Shonali Nagrani. Sid taunts Sky that after the fight, Sky will get close to Shonali though he was badmouthing her till now. Sky lashes out and blames Sid for his fight with Shraddha. Shraddha lashes out at Sky and both end up having a huge argument in front of all the housemates. Sky threatens to leave the house but Sunny Leone tells him his mother watching the show would want him to fight. Juhi tries calming down both of them but in vain.
Later in the day, Mahek approaches Sky and asks him to cook dinner. Sky refuses. Mahek angrily tells him to cook his own food and eat if he wants to. He tells Mahek to get out of the room, which angers her further and she yells back at him. In return he calls Mahek a loser. Sunny can't stop laughing at all these fights. At the end of the day, she tries to tell Juhi and Sky about her real identity while they are in the garden but both of them refuse to listen. They tell her it doesn't matter to them, she will always be their friend, and they love her.