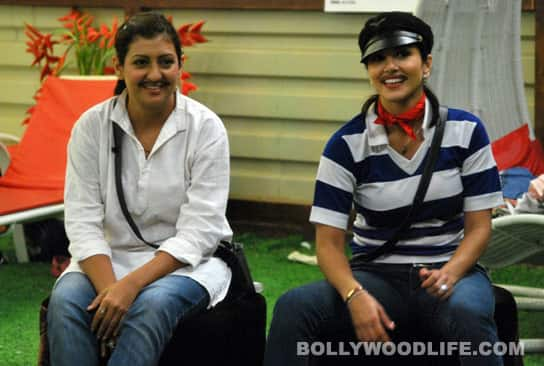 skip advertisement
 The gals take on the guys on Day 80 in the Bigg Boss 5 house
Juhi Parmar, Sunny Leone and Sky begin the day with a group hug. After breakfast, Sky and Juhi relax in the garden and chat about Amar and his wannabe nature. Amar joins them, and Sky immediately turns the conversation and says they were praising him. Soon, Sunny and Siddharth Bhardwaj join them. Amar and Sky renew their argument from the previous night, and after a while, Sunny and Juhi leave them. They go to the washroom and laugh out loud at Sky fighting for no reason at all. Sky joins them there and starts laughing too. Juhi points out that for once, Sid has been left out of the argument. Meanwhile, in the garden, Amar and Sid start discussing how Sky's jokes are completely nonsensical and it's time he left the house.
Later in the day, the housemates start doing their daily task. Juhi and Sunny put up a mock fight about Amar and Sky over something they claim Amar had said. Juhi announces that Amar had called her a weakling a few days back. Sid asks Amar if he has ever called any woman on the show a weakling, and Amar firmly says he has never done so. He adds he will sort out the issue with Juhi.
Later in the day, Sunny, Sky and Juhi get together and Sunny complains about Amar being too touchy-feely during the task. Sky agrees that it was totally unnecessary for Amar to do so. Near the end of the day, Juhi and Sunny mock the fight Sky and Amar had in the morning and reenact it much to the amusement of all the contestants. Everyone has a hearty laugh.