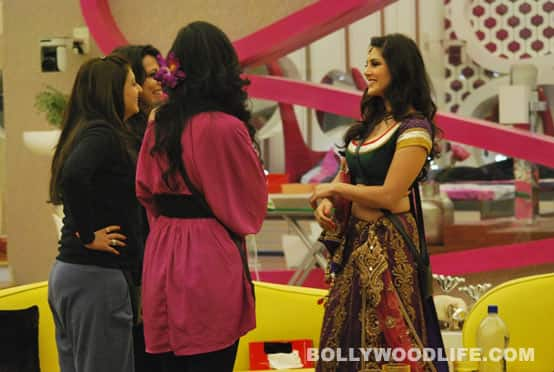 skip advertisement
Girls-seen-bonding-with-Sunny
Swami Agnivesh's effect seems to be wearing off with Sunny's entry into the house. Fights begin again on Day 50
Early morning, Sky and Shonali Nagrani have a huge argument. Sky thinks that Shonali is upset with him as he had nominated her the previous week for evictions whereas Shonali says that she has forgotten all about it. Sky is generally irritated with Shonali and has been behaving badly ever since the 'Rajneeti' task ended. Sky does not let go of any chance of mocking her. He calls her dumb and says that she keeps changing her rooms and forgetting all the wrongs she has done so far. Sunny tries to mediate but it doesn't work. Sky goes on to tell Shonali that she is doing nothing but aping Mahek Chahal. Shonali cannot bear it and she breaks down. Amar Upadhyay, Mahek Chahal and Siddharth Bhardwaj manage to console her.
As the day progresses, we see Sunny getting used to the Bigg Boss house and its contestants. Sunny has spent most of her time talking to Siddharth and hence feels comfortable with him. Siddharth is seen teaching her Hindi and also discusses India's culture and heritage with her.  The nominations then take place and Juhi Parmar, Pooja Bedi, Sky and Siddharth explain the procedure to her. The four of them also tell her that they really like her.
As the day ends, Siddharth chats with Pooja Misrra and Sunny and tells them how he does not like it if something goes wrong. While this is going on inside the house, outside, Sky bitches about Siddharth to Pooja Bedi and Juhi and tells them that Siddharth has changed all of a sudden. When Juhi tells him that it's all because of the game, Sky says it is not so and it's just the way Siddharth is. He also tells them how Siddharth had made a plan against Juhi and Pooja Bedi and Sky had stopped him and told him he does not want to hear about it.