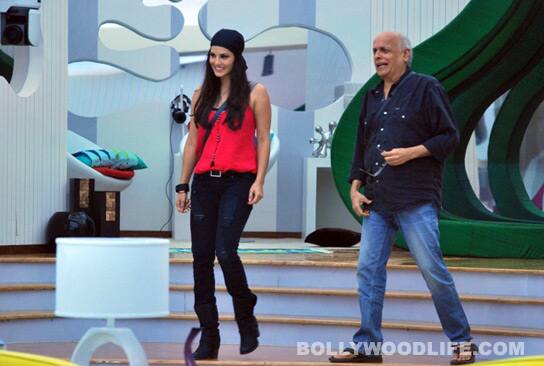 skip advertisement
Sunny-Leone-Mahesh-Bhatt-BB5
What exactly happened between Mahesh Bhatt and Sunny Leone? Read on to know more
The day begins with everyone in the house waking up in a jolly mood and dancing to the tunes of Jaadu hai nasha hai from the movie Jism. Siddharth Bhardwaj's hunger strike continues as he does not eat anything and walks around the house in the same gloomy mood. He is called inside the confession room by Bigg Boss and is asked to have some food. He explains to Bigg Boss how he had felt bad about not being given a fair chance of sorting out his fights with the fellow contestants. Bigg Boss pacifies Siddharth by saying that there is no reason why he would be treated unequally in the house. Soon Siddharth's anger melts away and he breaks his fast by having fruits.
As everyone in the house is preparing for lunch, Bigg Boss calls Sunny Leone in the confession room and introduces her to Mahesh Bhatt who has come to the Bigg Boss house to talk to her about Jism 2. Sunny takes Mahesh into the house. Mahesh greets everyone warmly and carries along a lot of positive energy inside the house. He starts conversing with the housemates and observes everyone's faces. He greets Sky in a manner that leaves Sky spellbound and joyous throughout the day.
After a while, Mahesh and Sunny head towards the captain's room to sit and discuss things in private. Once the duo is done talking, the filmmaker gets back to having a conversation with the contestants and everyone around is seen listening to him quietly as he imparts some wisdom. Mahesh makes everyone feel light by telling them that if the world outside is a spectator then they are nothing but performers and they should be proud of the fact and not feel burdened about it.
Mahesh thinks that there is something that Sunny is unable to talk about in front of everyone and talks to her about it. Sunny opens up in front of him and talks to him about all her fears and her survival in the Bigg Boss house. After the conversation, Mahesh blesses Sunny and tells her that he is glad that he made this choice of coming to the house and talking to her. He says he's glad to meet a woman who lives life on her own terms and is not pressured because of society. Mahesh soon leaves the house and the housemates discuss how it was to have someone like him amidst them.
As the day ends, Sky is seen in a very light and happy mood and chats with Siddharth about how there are a lot of good vibes in the house, but all depends on how people take it. In the night, he hugs Juhi, Sunny and Shonali and waves them a good night.
Catch Bigg Boss 5 every night at 10.30pm on Colors
ALSO READ:
Sunny Leone has agreed to do Mahesh Bhatt's 'Jism 2′