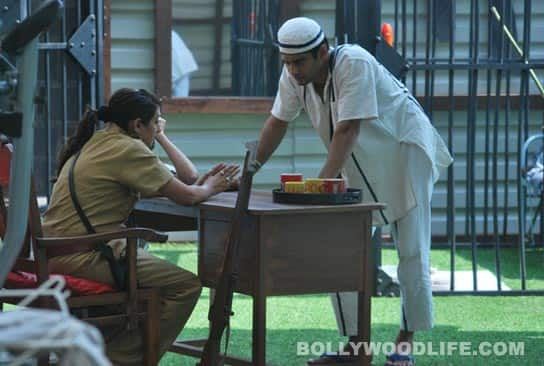 skip advertisement
Amar-talking-to-Juhi-071211
It's Day 66 and the pressure is getting to the contestants, especially to the pornstar who falls ill during a task
Early in the morning, Mahek Chahal tries to steal the locker keys, but due to Siddharth Bhardwaj's tight security she fails. While the two teams are busy arguing, Amar Upadhyay slyly steals the keys and goes to sleep. It is only after sunrise that Shonali Nagrani and Siddharth realise that the keys have been missing. The two report the incident to Juhi Parmar. Juhi gets agitated and argues over it with Amar, Sky and Mahek. She points a finger at Mahek and Sky saying they are not playing a fair game. Siddharth is very happy since they get a letter from Bigg Boss stating that Amar should return the keys.
Once they get the keys back, Sunny Leone gets a heat stroke and starts feeling giddy. Soon Sunny gets out of jail to sit in the shade for a while. While she's out, she winks at the prisoners inside so that they can utilise this chance and steal the keys. Sky makes use of the opportunity and runs to get the keys from the drawer when Shonali runs behind him and asks him to leave the keys. Soon there is a big ruckus and the housemates enter into a huge argument. When the prisoners are asked about the keys, all of them say that they do not have the keys. In the entire ruckus, Sky throws the keys at Mahek.
Sunny is seen sitting near the water filter shivering due to her heat stroke when Juhi comes to her and tells her that her act of winking to the prisoners would turn out to be futile for her own self. Sunny replies that this is a game and that to make her team survive she needed to do it. And also assures Juhi that her heat stroke was not a part of the game plan but something really genuine.
Juhi breaks down, agitated that she cannot play the game. She claims she does not want to play anymore. All the contestants are unhappy and don't want to continue the task any more.