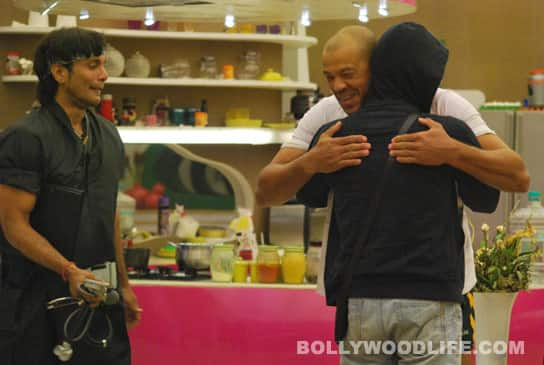 skip advertisement
The cricketer turns Munnabhai on Day 75 in the Bigg Boss 5 house
As Sunny Leone and Siddharth Bhardwaj are not on talking terms, Shonali Nagrani tries to play mediator. Sunny tells Shonali to tell Siddharth to complete his household chores as she doesn't want to talk to him. Meanwhile, Sky and Amar Upadhyay are having breakfast with Pooja Misrra. Sky and Amar mock Pooja for trying to clean her image by coming back on the show. The boys tell her that her attempt failed because she got involved with Siddharth and his bad behaviour. Pooja warns Amar that if he doesn't shut up she will complain to her brother who is 6'8″ tall. Amar and Sky taunt her that Sid is the warrior boy and her brother should be scared of him, but that does not deter Pooja from continuing to praise her brother.
Later, Pooja complains to Amar about how Shonali's flirting with Siddharth is hurting her boyfriend watching the show. Amar agrees with her. Shonali asks Siddharth about the household chore since Sunny had asked her to. Sid explains that Pooja is responsible for mopping the floor and blames Sunny for poking her nose unnecessarily without the correct facts. This fight extends to the other housemates. Juhi Parmar calls Siddharth and Pooja to try to sort the issue. After a lot of persuasion, Sid agrees to sweep the floor while Pooja will mop it. Sky sees her and makes fun of her dressing sense. He says the outfit makes her look like a flower girl from Thailand. Pooja laughs it off and continues her work. Much later, Pooja tells Amar in the bathroom that her dress is her business and she has the right to choose what she wants to wear. Amar agrees with her.
Siddharth announces the Munnabhai task, in which Andrew Symonds is Munna Bhai and Sky is circuit. One by one all the housemates come and enact their skits with Munna Bhai. Munna Bhai gives them a jadoo ki jhappi (magical hug). All of them then dance to Dekh le from Munna Bhai MBBS. Once the dance has ended, Sunny and Juhi criticise Shonali's repetitive expressions and Pooja's horrible style statement while chatting in the garden. Juhi also advises Siddharth not to abuse during a fight. Sky sees this and gets irritated. Juhi then goes to pacify Sky. The two patch up and everyone goes to sleep.