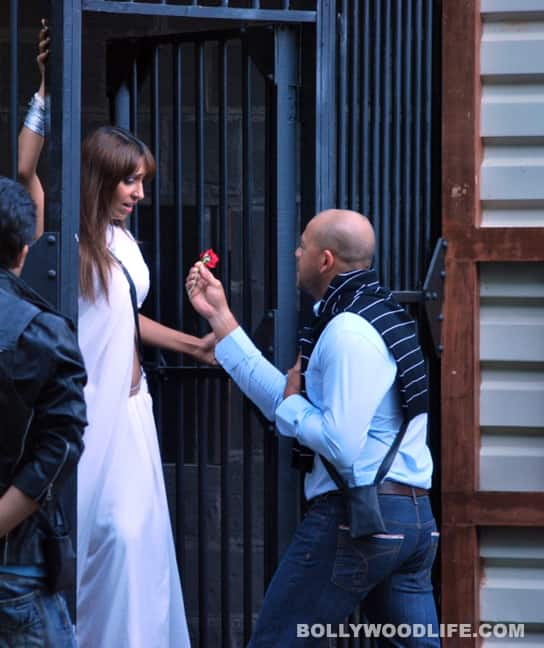 skip advertisement
Day 74 in the Bigg Boss house is full of fun and romance
Sky plans to play a prank on Shonali Nagrani with the help of Amar Upadhyay, Sunny Leone and Juhi Parmar. They decide to scare Shonali when she is sleeping. Bigg Boss sends a birthday cake and a few gifts to celebrate Juhi's birthday. All the housemates cut the cake and sing for Juhi.
Sky tries to include Pooja Misrra in his plan, but Pooja refuses to be a part of it. The task for the day is Romantic Raja and all the housemates are excited about it. Andrew Symonds proposes to Shonali in a clichéd Bolllywood style. Shonali bursts into laughter and plays along. Later in the day, Andrew proposes to Pooja, even though she is locked up in jail. The next time the task bell rings, Andrew proposes to Juhi to the tune of Aati kya khandala. Sky helps him in the difficult parts. The housemates have a lot of fun with Andrew's acts. Meanwhile, Sky stars planning his prank on Shonali. He describes his idea to Juhi, but Shonali walks into the room just then. Sky starts to scare her by saying that he has been getting abnormal vibes late at night. He exaggerates it a little bit and Shonali actually gets a little scared as Juhi plays along with Sky.
Later, Bigg Boss sends them a letter about a rain dance. Everyone is happy at this gesture. They start dancing to hit Bollywood songs in the artificial rain and have a great time. During one of the dances, Amar picks up Sunny in a spontaneous move. Sunny is not very pleased about it and she talks to Amar about it after the dance. She tells him she is worried about his wife watching the show. Amar tells her his wife will not judge him about such a thing. Another task is announced for which, the housemates are divided into two teams – boys and girls. The two sides compete hilariously and the winner is given a gift hamper by Pooja.
That night, Andrew and Siddharth Bhardwaj are seen laughing at the cricketer's habit of snoring. Meanwhile, Sky begs Pooja to lend him her white sari so he can play his prank on Shonali. After a lot of persuasion, Pooja lends it to him, but Sky decides not to play the prank.