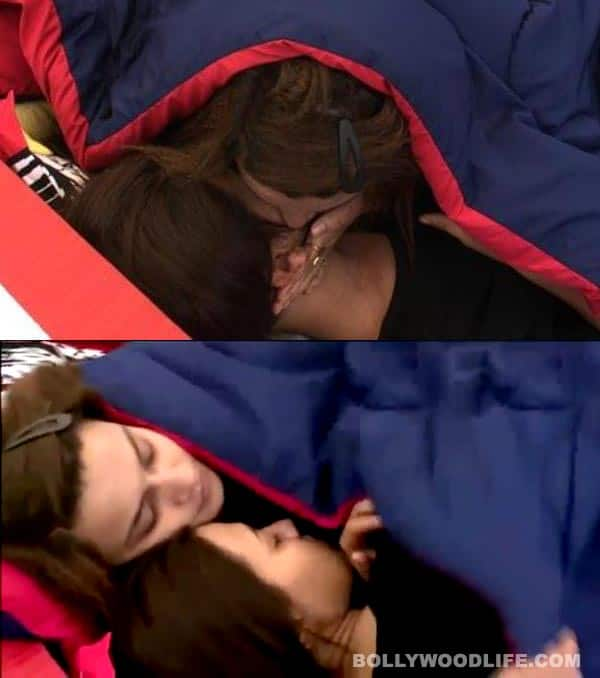 An irritating itch led to a nasty spat between these two girls. But read on to find out how they resolved the matter in the cozy confines of a razai
A while ago, Sana Khan started suffering from some sort of an allergic reaction. A harrowed Sana couldn't stop herself from itching her hands and legs. But her concerned friend Aashka Goradia couldn't stand the sight of this delicate Khan itching herself till she bled.
That was when Aashka curtly told Sana to stop it. The moment Sana shot back saying she can't help it, Aashka's famous tears made their appearance. Sana tried to console Aashka saying she didn't mean to snap at her, but all in vain.
Feeling like a helpless damsel in distress, Sana took shelter under a blanket. And that was when Aashka slid under the cover and started kissing her dear friend. No, we aren't hinting at any make-out session here, peeps. All this kissing and cuddling was strictly platonic, at least we would like to think so. And guess what, this isn't the first time the two ladies have behaved in such a touchy-feely fashion. Remember their playful wrestling on the bed, the tickling and giggling, and the time when they both got into the same bathroom (gasp!)? Well, we're okay with their awesome chemistry. But is Vishal Karwal okay with his 'good friend' Sana Khan's proximity to another women? Well, Vishal did voice his opinion late one night in front of Dinesh Lal Yadav saying, "Had she (Sana) been my girlfriend I would have asked her – what is going on?" Ahem ahem.
Also, a fleeting glimpse of this blanket-scene might make a wandering channel surfer halt in the tracks and watch with interest to find out what actually were the two girls up to. Don't believe us? Take a look at this video and tell us: Do you feel Sana Khan and Aashka Goradia got naughty under the blanket?
[jwplayer mediaid="169234″]