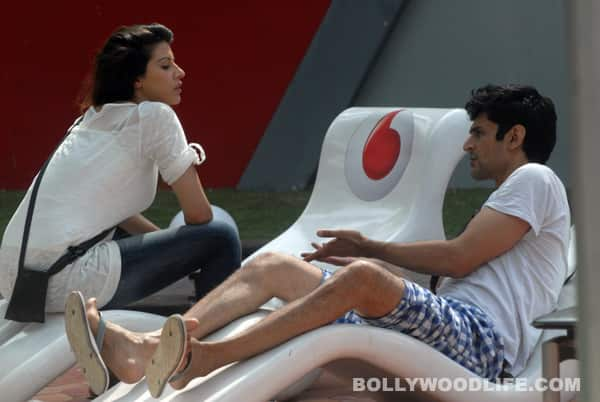 skip advertisement
Tonight the hell-hole will see these two guys trying to act overtly romantic to win a date with the lovely looking Sana. Who'll win? Read on to find out!
This day in the house of Bigg Boss 6 will begin with the contestants looking shocked at the fact that one of their water closets has been locked up. Ooops! After that, Bigg Boss presents them with a rating task where everyone has to arrange themselves in places 1-10. Imam Siddique makes sure that he takes the numero uno position and in turn gets appointed as the captain.
After that, Bigg Boss introduces a romantic task where Rajev Paul, who had confessed during the Layered Voice Analysis that he was attracted to Sana Khan, and Vishal Karwal, who has openly confessed having a soft spot for Ms Khan, will both have to woo Sana to earn a date with her.
And do you know who'll win? Vishal Karwal! But all that not before a poetry reciting competition where the two guys have to patao the babe by confessing their love like a poet would do it. Rajev is irritatingly interrupted by Imam and loses his cool. Hehehe! What fun it's going to be, no?
But there's more in store for Bigg Boss 6 watchers. So stay clued in to find out what happens on the date tonight. Hint: Rajev Paul is the topic of discussion between the two love birds. Ciao!