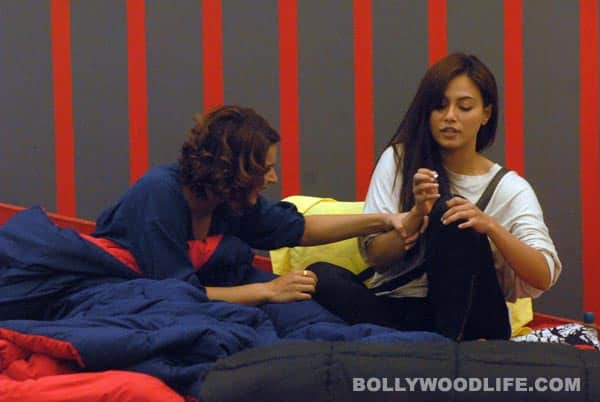 skip advertisement
Sana-and-Aashka-play-around
The cry baby's mommy came visiting the glass-walled house. Do you know what happened then? Read on to find out!
Looks like Bigg Boss 6 is aping Karan Johar's motto – it's all about loving your family. And probably that's the reason why we witness parivaar waalas popping up every now and then in the show. The latest participant who was in for a 'mommy's hug' was Aashka Goradia. After Aashu failed to recognise her mom's voice (gasp!) during a task, Bigg Boss decided to let the mother-daughter duo have a quiet chat.
And they did, during which mommy dearest explained to her darling daughter how the audiences are gossiping about her and Sana Khan's friendship. Hehehe! So did you finally get the message Aashu? Also, after the teary chat got over, we saw a bawling Imam Siddique apologising to Mrs Goradia for whatever he had uttered against her dear beti. Ah! Could this episode get any more teary-eyed?
But hey, the 77th day in Bigg Boss 6 didn't just revolve around moments laden with heavy emotions. We also had Salman Khan, the host of the show stepping into the house. Whoa! The inmates went ballistic with the attention showered upon them by the Dabangg Khan.
And while we saw Sallu lovingly share a meal comprising pizzas (yummy!) with the inmates, he also made the contestants dance to Fevicol Se from Dabangg 2. Wow! Could we have asked for any more entertainment?
So we absolutely loved the way Day 77 turned out to be in the house of Bigg Boss 6. What about you, peeps?