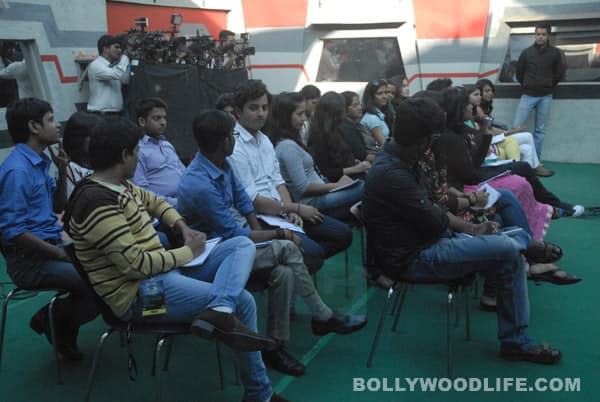 skip advertisement
Yup, you heard it right. While the show's still on, the Bigg Boss 6 house has opened its doors to let in curious journalists. So how will the inmates tackle those pointed questions? Read on to find out!
The steady stream of visitors into the glass-walled house of Bigg Boss 6 refuses to dry out. After Farah Khan's frank chat with all the contestants, the inmates now have to gear up to face pointed, and to a certain degree, uncomfortable questions about their conduct in the house.
The most-talked about topic in this press conference will be Sana Khan and Rajev Paul's proximity. And while the two defend their strictly platonic relationship, Delnaaz Irani takes a neutral stand by saying that her relationship with Rajev is over and if he wants to move on with Sana or any other girl, she would only be too happy. Ahem ahem. But our feathered friends were far from convinced and popped up the question about that mushy 'good night kiss'. Remember that one pappi planted by Rajev on Sana's forehead in the dark one night? Well, the two 'good friends' played innocent and insisted that the kiss was mis-represented. Really? Do you buy that explanation, BollywoodLifers? We don't.
While the love birds were grilled to no end, the reporters were also curious about the mental state of Imam Siddique. And one gutsy member even went ahead and asked Imam if he was a psycho. Imam's reply to this was, "You are welcome to conduct a psychoanalysis test on me." He also went on to explain how he loses control when he's angry because just like any 'normal' individual, he too has issues.
Another entertaining point of this conversation comes when Urvashi Dholakia is quizzed about Delu's brother Bakhtiyaar Irani's entry into the show and the way he insulted her on national television. Do you know how Urvashi tackled that one? Simply by faking a memory loss and stating that she doesn't want to remember such things, as dynamics in a relationship keep changing.
But these are just tid-bits from the inmates' conversation with the reporters. A lot more has been left unsaid. To find out how Niketan Madhok made it to the list of finalists and why Sapna Bhavnani, in spite of cribbing about being in the house, has made it so far, stay clued in to this very space.
Till then, tell us, peeps: Do you really think Rajev Paul and Sana Khan's friendship is strictly platonic?