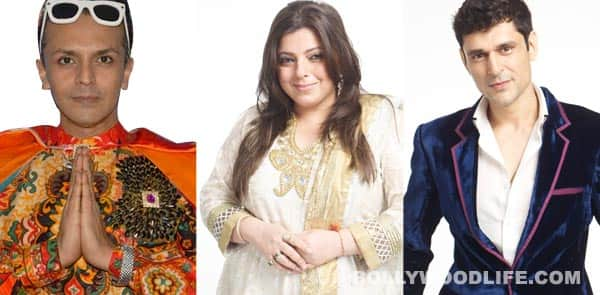 Our astronumerologist Bhavikk Sangghvi and Tarot reader Shruti Chopra predict their winners of Bigg Boss 6. So who will it be – Delnaaz Irani, Imam Siddique or Niketan Madhok? Read on to find out
Our astro-numerologist Bhavikk Sangghvi and tarot reader Shruti Chopra give their verdict on who will win this season of Bigg Boss 6. Three of the eight contestants who are currently fighting the battle inside the house – Delnaaz Irani, Niketan Madhok or Imam Siddique could be the probable winner this time around.
Bhavikk Sangghvi claims that it will be model Niketan Madhok who will win the current season of Bigg Boss. Remember, he had rightly predicted Juhi Parmar as the winner of Bigg Boss 5.
Here's how he explains his theory:
"Niketan was born on 9th October 1982 which makes him a Number 9 (Mars) person in numerology. Like all Librans, he is ruled by Number 6 (Venus) while his destiny number adds up to Number 3 (Jupiter)" explains Bhavikk.
Niketan turned 30 during the start of the show which indicates that his best phase is just about to begin. The grand finale episode of the show will be aired on January 12, 2013 and the compound number (sum total) arrived from this date is Number 1 (Sun). The name Niketan Madhok vibrates on Number 46 (4+6=1).
The upcoming year 2013 which adds up to Number 6 (Venus) is likely to prove lucky for most Number 3, 6 and 9 people and Niketan is just 'destined' to win the popular reality show.
The second second choice for the winner will be Aashka Goradia (November 27, 1985) and third in the line will be Sana Khan (August 21, 1987).
Shruti Chopra's prediction
Delnaaz Irani is in an environment where although she is taken seriously, she is not respected to the level she deserves. She believes that this show is a risk to her reputation, but with the King and Ace of Pentacles appearing, it is highly possible that her risk might pay off. She has strong chances of succeeding and moving forward in life as a result of her Bigg Boss appearance.
Urvashi Dholakia may seem to be hot headed, but the Temperance reflects her ability to remain balanced and play the game as and when required. Her desire to win this for her family drives her very strongly, but this isn't looking enough for her to get through to the finishing line.
Aashka Goradia can be impulsive in displaying her emotions, but she's quite sensible about the image she wishes to be projected of her. She is content with herself but also believes that she can be the dark horse and win this, especially as she has the strong Queen of Wands supporting her plans.
Sapna Bhavnani has a tentative couple of weeks ahead. The Eight of Cups shows the negative energy she has been feeling despite trying to change herself. But she will come through as a changed person and will overall be appreciative of the experience she has received.
Sana Khan is another contestant who will gain immensely from this exposure. The Page of Cups reveals that although she does believe that she has strong chances to win, she also feels that there are others who are stronger than her.
Rajev Paul carriers a complicated mind set. With the Page of Cups and the Tower cards appearing, it is seeming very difficult for Rajev to win this season. But in his desire to win, he will further complicate his life by over working on simple situations.
Niketan Madhok has surprised himself, but he does not take his unexpected achievement of remaining on the show for granted. He holds no further expectations and will enjoy each day as it comes – but at the same time, as he nears the final, his anxieties will grow. This may not prove to be healthy for his future in the house. The Eight of Wands warns other contestants that Niketan might actually catch them off guard.
Imam Siddiqui is like the Empress – confident and on top of his game, but certainly arrogant in his temperament. The Four of Swords warns of his negativity affecting his position in the final although he will get close.
After comparing all the eight contestants, these are Tarot's top three contenders:
1. Delnaaz Irani
2. Imam Siddiqui
3. Niketan Madhok
Learn more about our tarot reader Shruti Chopra
Our prediction
According to us, Delnaaz Irani, with her sane demeanour and polite conduct, has a bright chance of winning the sixth season of Bigg Boss. But what do you think, BollywoodLifers: Who according to you will be crowned the winner of Bigg Boss 6?