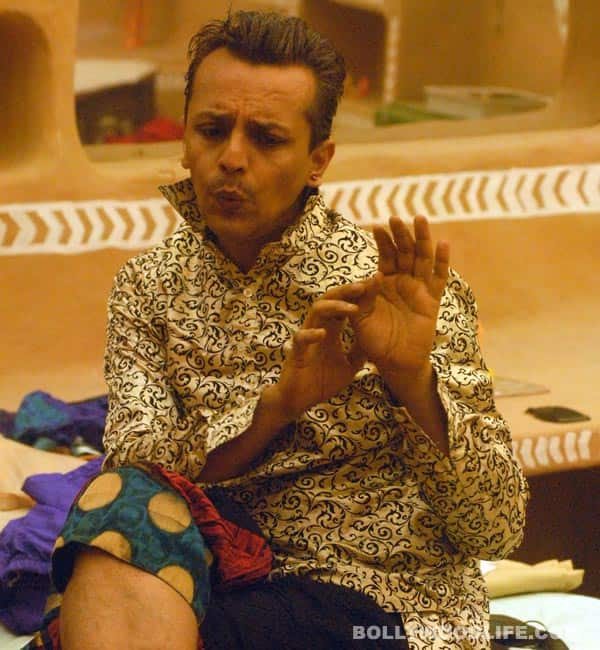 The 'style addict' worked up a tiny storm of oohhs and aaahhs when he entered the glass-walled house. But the proverbial cold vibes followed soon after…
Imam Siddique's exit from the mud-house of Bigg Boss 6 must've been a relief for Aashka Goradia, Vrajesh Hirjee, Santosh Shukla and Dinesh Yadav. But what about the inmates of the main house – Vishal Karwal, Urvashi Dholakia, Niketan Madhok, Sana Khan, Delnaaz Irani, Rajev Paul. Karishma Kotak, Mink Brar and Sapna Bhavnani? Are they harrowed?
Well, Sapna and Delnaaz seemed elated to find Imam in the house. Karishma and Mink looked a bit skeptical, while the boys absolutely hated the fact. And contestants who were wary of Imam's entry couldn't help worrying when Siddique declared, and that too point blank, "I am here to play a game. If you are my friend, but if I think you can be a competitor, I will nominate you." The Style Addict host even added, "I am here to win as I deserve Rs 50 lakh after so many years of experience in the industry." Ahem ahem. Whatever did that mean? We have no clue, do you?
Anyway. While Imam continued with his weird antics – and the latest one includes a commentary on classical dance – he lost no time in snubbing his male co-inmates. To Niketan, he said, "You might consider yourself a supermodel but for me you are super dry!" To Rajev, the vishesh tippani was: "Whatever games you are trying to play, I've played those in real life and come here." And to Vishal, all Imam had to say was, "You are too young to me in age and experience, and this is not Splitsvilla. Time for a reality check!"
Thus spoke the Bigg Boss expert aka Imam Siddique. But do you think such tall claims will bring any success to this style diva…oops…dude? Tell us what you think, readers!