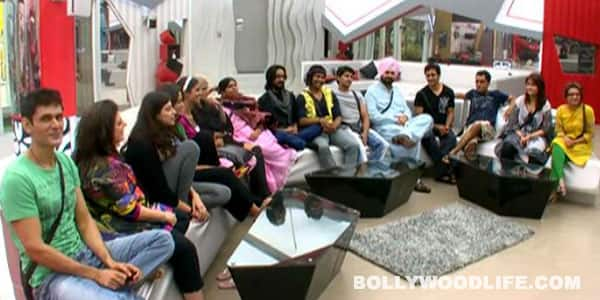 Being at peace and smiling is akin to committing a sin in this crazy house at Lonavla. And for those who try to get away with it, Bigg Boss knows just the right way to *beep* their happiness
Those on-the-edge moments of last time's eliminations that got Sayantani Ghosh pushed out of the Bigg Boss house were followed by a miffed hairstylist called Sapna Bhavnani snapping at Salman Khan. The reason for it – Sallu's tongue in cheek humour that hinted at contestants being in the house just to earn money, sing and dance. But isn't that true? Well, Sapna begged to differ, saying that she wasn't in it for the money. Ummm…really?
Anyway, while Sapna's declaration was pretty amusing, the way she said it made for some perfect Bigg Boss kinda entertainment. How? Sapna made cutting remarks at Salman being a woman-beater and also dared him to throw her out of the show. And all that in full view of the cameras. Of course, most of the rude stuff was edited out. But as we sat watching the lady lash out at apna Dabanng Khan we couldn't help but wonder – is her hairstyling salon safe now? Errr…. Not for us to decide, right?
So let's move on to more pressing issues, like the tasks and eliminations that have denied a good night's sleep to the contestants…literally. Yeah, the lives of the inmates were pretty peaceful and devoid of any in-your-face politics. And that's so not how it's supposed to be! So to kick-start the shenanigans brewing in the sleepy, scheming minds of the contestants, BB introduced a 'rajneeti' task. Ah! Can't escape dirty politics when in the house, can you?
So Urvashi Dholakia and Niketan Madhok were appointed as two political giants whose task was to try and convince other inmates to join their party. Also, Rajev Paul and Navjot Singh Sidhu were told to be at their disposal as assistants. And while the inmates initially saw this task as a cakewalk, the house soon turned into a war zone with the two leaders trying to pull and tug people to their side. And the politics involved…well, don't ask!
But is that it? Oh, not at all! As the contestants were busy figuring out who belongs to which party, Bigg Boss dropped another bomb saying that there would be TWO evictions this week. Whoa! And the nominees – Gulab Gang leader Sampat Lal, cartoonist Aseem Trivedi, model Karishma Kotak and hairstylist Sapna Bhavnani.
So who do you think will be shown the door, readers? Sapna, perhaps, because of…you know what. Or is it going to be someone else? Stay clued in to this space for more dope.