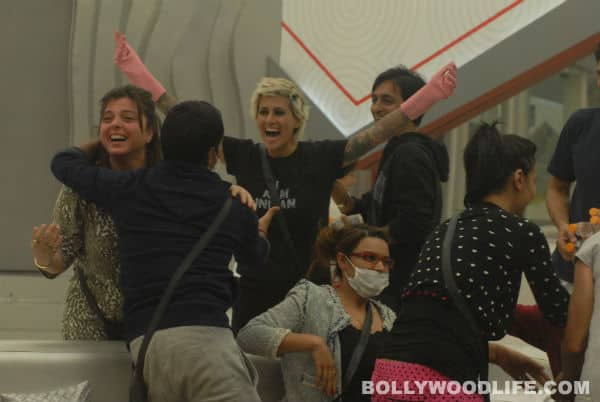 More sparks fly on the show as the mud house is broken down and all participants reunite in the glass-walled house
Things have started heating up on Bigg Boss 6. The padosi house, that hosted all the eliminated housemates without the knowledge of the contestants in the main house, was destroyed in a matter of two minutes, barely giving any notice to its residents. Masked men carrying hammers entered the house and broke it down as they led the inmates – Aaskha Goradia, Santosh Shukla, Vishal Karwal, Dinesh Lal Yadav aka Nirahua and Vrajesh Hirjee – to the main house.
Once there, they were ordered to wear a face mask and not allowed to talk to anyone. Meanwhile, the inmates of the main house were shocked by the sudden alarm that went up as they were asked to vacate the house and enter the play area for a little while.
As the drama eventually unfolded, and the padosi housemates entered and mingled with the other Bigg Boss house participants, there was happiness, shock and disappointment on many a faces. The housemates were seen catching up on the events of the past few days including the eliminations and new additions. Rajeev Paul was irate and confided in Niketan Madhok that his chances of winning the show now looked bleak, since four housemates had not been eliminated at all. Meanwhile, Aaskha revealed Imam Siddique's shocking behaviour and the stripping episode to others who seemed quite taken aback. Also, old enmities were revived as Aaskha and Urvashi Dholakia who still cannot see eye to eye, started bitching about each other.
As the episode drew to a close, the housemates were divided into two groups and were pitted against each other in a weight-off. The padosi team and the Bigg Boss team were made to weigh each other's clothes, and the winner would lay claim to the bedrooms. Sapna Bhavnani's team won, and later as the night progressed, Urvashi was seen abusing Delnaaz Irani and Aashka about their unruly behaviour towards her.
And now, the threat of three eliminations looms large on the housemates. And to increase the risk, this week all the contestants will be nominated for eliminations. A breath of fresh air for Rajeev, wethinks!