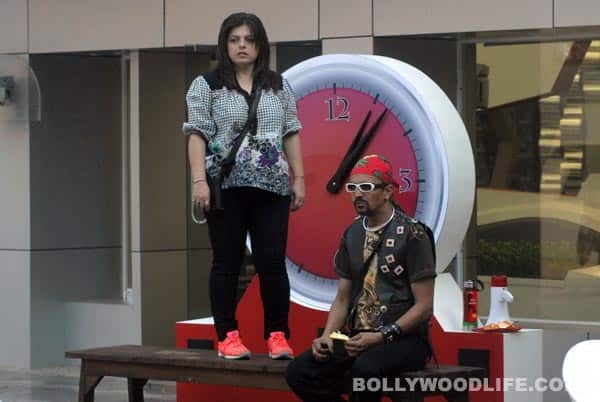 Things heat up as housemates begin to succumb to pressure
The Bigg Boss 6 house is no more a place of friendly camaraderie as it was before. On Day 64, an early morning fight between Imam Siddique and Sapna Bhavnani will shatter the morning peace, as the two will fight over the daily tasks. Imam will be in top form as he takes on Dinesh Lal Yadav aka Nirhua, Vishal Karwal and Sapna about how he isn't escaping his daily duties.
Later, in the second epic argument of the day, Imam will gets into a fight with Rajev Paul, and you will see the two grown up men bicker like kids over who ate the food.
Meanwhile, Urvashi Dholakia will be given a secret task that involves her doing absurd things that Bigg Boss tells her to via a secret microphone. Urvashi does the task to hilarious outcomes, and the other housemates wonder if she has gone crazy. In the evening, the house gets ready for yet another major showdown – this time between Urvashi and Delnaaz, the two women who looki like strong contenders.
During the course of the argument, Delnaaz vents out her bottled up anger, and warns Urvashi that she will not keep quite as she has in all these days. Urvashi too doesn't look like she is in the mood to give up. Even Rajev's feeble attempts to calm Delnaaz down are of no avail. However, later in the night, Rajev approaches Urvashi and requests her to quit fighting, but Urvashi is in no mood to relent and clearly tells Rajev that Delnaaz has been against her from the very first day.
In the final moment of comic relief, we see Santosh Shukla admit that he was only fooling around when he said that he has the hots for Karishma. This might be because of the way everyone from Salman Khan to Nirhua, have been making fun of him.
And on this bitter-sweet note, the episode ends. Be sure though to catch the epic fight moments when Rajev tries to pacify Delnaaz. It's quite hilarious!