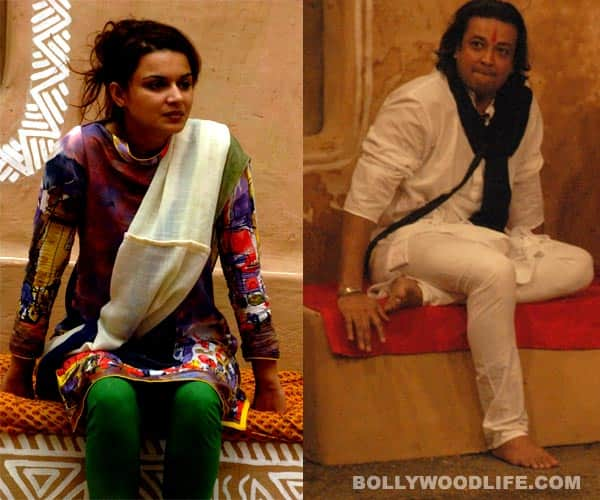 The actor from Lucknow, who is known for his roles in mythological serials, is smitten by Aashka's demeanour. But should the lady respond positively to his overtures?
If you think you've seen Santosh Shukla, the long-haired dude somewhere, you probably have, in one of those mythological serials like Jai Santoshi Maa, Jai Jai Shiv Shankar or Kahaani Chandrakanta Ki. And guess what, Santosh found his apsara in Aashka Goradia even before he entered the house of Bigg Boss 6, or so he claims. And he has been more than happy on being invited as a wild card entry into the house.
So when he did come in, he wasted no time in declaring his mushy feelings for the contestant whose favourite pass-time was to shed tears at the drop of a hat. Santosh even said he would like to become Aashka's stand-by boyfriend. But the lady was in no mood to give bhaav to such advancements. Why? Probably because the love of her life impatiently waiting for her outside the glass-walled house…or is she?Anyway, whatever be the case, Shuklaji didn't get an answer. But the persistent dude decided to go ahead and become a self-appointed stand-by boyfriend.
But alas, even that title was taken away from Santosh when he tried to get too cozy – by sliding his hand under Aashka's blanket to touch her foot. Gasp!
Readers, do you think Santosh Shukla is fit enough to be Aashka Goradia's boyfriend? Tell us soon!
ALSO READ: