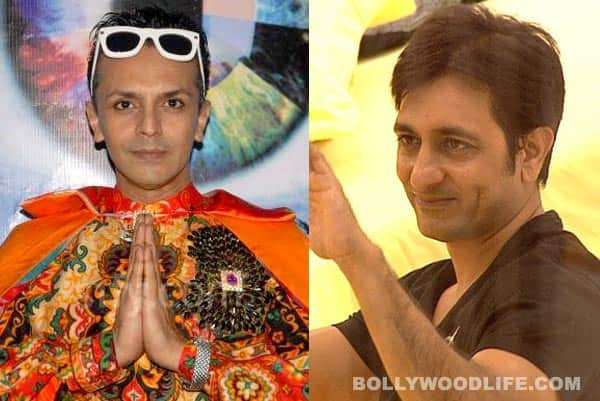 Most of the Bigg Boss 6 contestants have their favourite phrases that pop up at least once in every episode. Some entertain us, while most truly are irritating. Here are some of them…
Rajev Paul – Do minute
On the face of it, Rajev could definitely become the brand ambassador for Maggie noodles, since he claims that he needs only 'two minutes' to do or say anything. But the truth is (and his fellow contestants in Bigg Boss 6 would vouch for it), cooking Thanksgiving turkey takes much less time than having a conversation with Rajev.
Imam Siddique – Baat khatam
The man in the devil's mask talks incessantly and butts in when others are speaking. Despite that, after every two sentences the motormouth designer says, 'Ho gayi baat khatam'. Ironically, after saying these final words he continues to blabber on till he is asked to shut up.
Sapna Bhavnani – Ulloo banaya bada maza aya
This 41-year-old hairstylist is often seen jumping around like a teenager and yelling at the top of her voice. And in her joyful fits the lady often ends up singing, 'Ulloo banaya bada maza aya'. Guess Sapna's childish acts are the only reason Salman Khan called this a 'family' show!
Aashka Goradia – Kya game khel rahe hain yaar
When she takes a break from crying, Aashka is heard saying, 'Kya game khel rahe hain yaar'. Come on Aashka, didn't you get paid to play the game too? Or are you on this reality show only to flood the house with your ganga-jamuna weep-fests?
 Santosh Shukla – Hota hai pyar inhe zukaam ki tarah
After flirting with Aashka and being rejected over and over again, Santosh quickly moved on to Karishma Kotak. So while last week he claimed to be in love with Aashka, this week he has fallen for Karishma. And the actor from Lucknow has even coined a song for himself that goes: Hota hai pyar inhe zukaam ki tarah (he falls in love as often as one gets cold). In keeping with his flirtatious spirit, we won't be surprised if he fell for Sana Khan or Mink next week!