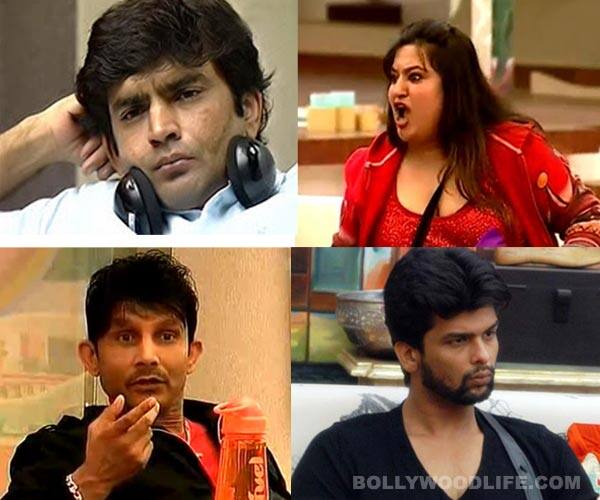 We take a look at other contestants who can meet Armaan Kohli's fate
Armaan Kohli was arrested by the Lonavala police yesterday, for allegedly assaulting British-Pakistani actor Sofia Hayat. Sofia, who was evicted from Bigg Boss 7 two weeks back had filed a complaint post her exit, accusing Armaan of physical abuse during her stay in the house.
But as you know, that this isn't the first time when we have witnessed violent behaviour by a contestant in the glass walled house. From Kamaal R Khan to Dolly Bindra to Kushal Tandon – everyone has put their violent streaks on display. So if Sofia can file such a serious complaint against Armaan, contestants from previous seasons, who were physically abused by a fellow contestant can file a complaint too, right? Well, we guess yes. Here is a list of contestants who might get into trouble now:
Kamaal R Khan – How can we forget the fight between KRK and Rohit Verma in Bigg Boss 3. During the fight Kamaal hurled a water bottle towards Rohit which hit Shamita Shetty. This incident was in fact, the last straw to a series of fights and abusive language that the Bhojpuri actor-filmmaker rained down on the contestants. Finally, he was thrown out of the house then and there. Though he was dismissed from the house, will Shamita file a complaint against him today?
Dolly Bindra – In season 5 of the high voltage reality show, Dolly got into a abusive fight with Ashmit Patel. The fight took a turn for worse when she pushed Ashmit. However the matter was settled there, but can Ashmit take revenge from Dolly by filing a complaint and getting her into trouble, today?
Kushal Tandon – Kushal had exhibited physical violence, with clear intention of hitting VJ Andy, which too had caused serious trauma for Andy. Though Kushal was dismissed from the house, but he soon made a comeback. But will he be in trouble now, if Andy decides to file a complaint against him?
Raja Choudhary – Raja had quite a few spats with various contestants while he was in the show, but the worst one was with Sambhavana Seth. The two fought like sworn enemies and were abusing the heck out of each other. There was also one moment when the fight between them got physical.