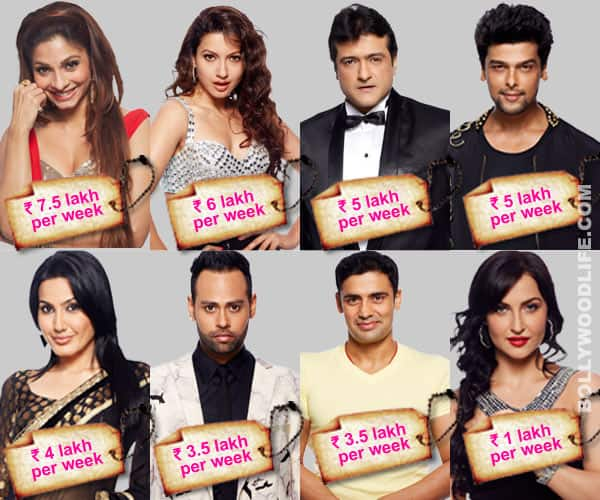 The housemates inside the glass walled house are drawing fat pay cheques every week
From withstanding electric shocks to living on limited food to getting scolded by host Salman Khan on national television to abusing the heck out of each other, Bigg Boss 7 housemates have faced and done it all. But if you think that the housemates put up with all this and more just for some fame, then you are completely wrong. So what is it that makes them do all this, you ask? The answer is moolah.
If a recent report in a leading daily is anything to go by then, in the last 10 weeks Tanishaa Mukherji and Gauahar Khan have made more price money than the actual cash prize of Rs. 10 lakh. Yes, you heard it right. According to our birdie from Lonavala, with Rs 7.5 lakh per week, Tanishaa is the highest paid contestant on Bigg Boss 7. Now we know, why this Bollywood's forgotten heroine was so desperate to get inside the glass walled house even though her family wasn't too happy with this idea.
Following Tanishaa, another contestant in the high pay league is Gauahar Khan. Reportedly, Gauahar is fetching Rs 6 lakh per week. On the other hand, Armaan Kohli and Kushal Tandon are getting somewhat close to Rs 5 lakh each, per week. VJ Andy and Sangram Singh are believed to be fetching between Rs 3 lakh to Rs 3.5 lakh per head, every week. Daily soap actors, Pratyusha Banerjee and Kamya Punjabi are apparently signed for something between Rs 3.5 lakh to Rs 4 lakh each. While the least paid contestants on the show include Elli Avram who got something between Rs 75,000 to Rs 1 lakh per week, Sofia Hayat is fetching Rs 1.5 lakh per week, nude Yoga guru Vivek Mishra got Rs 3 lakh a week and Ajaz Khan is drawing between Rs 2.5 lakh to Rs 3 lakh.
So on what basis is the amount for each contestant decided? Well, it depends on how a person has got the show. If the channel has approached them, they can demand a big amount. But say, if they have called the channel, then they have to agree on a paltry sum just for getting noticed.
With so much money involved, no wonder people are ready to put their reputation on stake!