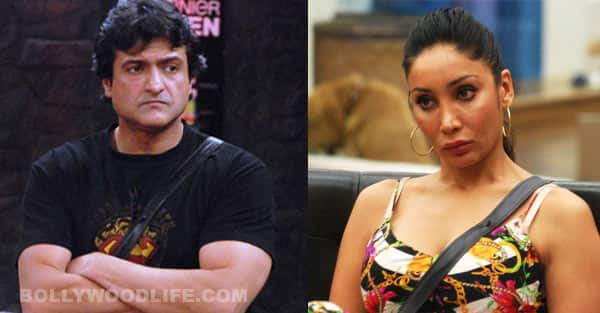 The war between Bigg Boss 7 contestants Sofia and Armaan has taken a turn for the worse…
British singer-actor Sofia Hayat, who was evicted from the Bigg Boss 7 house last week has filed a police complaint against fellow contestant Armaan Kohli, alleging that she was manhandled and subjected to violent behaviour by him inside the glass walled house. And now, in reply to Sofia's complaint, Armaan's father, producer Rajkumar Kohli has filed a defamation case against the British celebrity.
A statement was issued on behalf of Rajkumar Kohli regarding this entire scenario. "Since the past few days, ever since her eviction from the Bigg Boss house, Sofia Hayat has been trying her level best to gain cheap publicity by continuously maligning Armaan`s name in various sections of the media," the statement reads. "She has been saying that she has filed a complaint on the advice of Gauahar Khan as well as Kushal Tandon for the incident which happened in the Bigg Boss house and was watched by millions of viewers."
And there is more: "This is just a show and had any violence taken place in the true sense of the term, the Bigg Boss team would have surely taken action against Armaan." The statement also talked about the police complaint filed by Sofia on Wednesday morning at the Juhu Police station. "These comments made by Sofia are causing irreparable damage. To put an end to Sofia Hayat's publicity gaining tactics, we have got in touch with our legal team and are in the process of filing a defamation suit against her."
Looks like there is not going to be an end to this war any time soon. In this jhamela, who do you support – Sofia or Armaan?