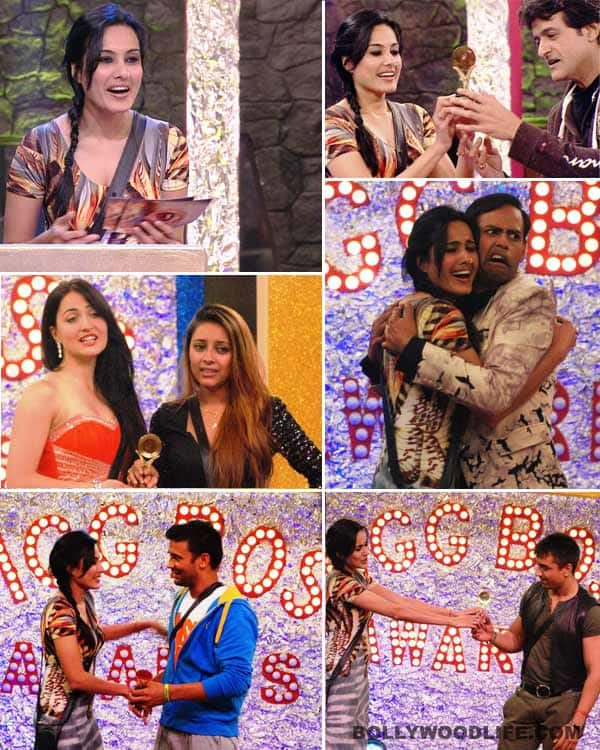 An interesting awards night will take place in tonight's episode of Bigg Boss 7. Read on to find out who won which title…
We have seen the Bigg Boss 7 contestants entertain and enthrall us for nine weeks now. They fight, they bully each other and at times, they even love each other (hard to imagine them loving each other, no?). Their peculiar personality traits make each one of them different than the other; some whom we just love, while some whom we just love to hate.
Keeping this in mind, in tonight's episode of Bigg Boss 7, Bigg Boss will call for an awards night to compliment all the housemates for their unique qualities that make them special. All the housemates are asked to fill a questionnaire consisting of various award categories in the confession room and place it inside the envelope with their respective names. After carrying out this selection procedure, the housemates will be asked to assemble in the activity area for the grand awards night. The housemates seem quite excited about it and will be dressed in their best for the function. After the buzzer rings, everybody rushes in the activity area which will be turned into an awards arena. Amidst much glam and glitter, the awards night kick starts where Kamya Punjabi will take over the stage to announce nominations followed by the winners.
The first category of awards will be Sabse Garam Sadasya and without any prizes for guessing who, it goes straight to the angry young man of the house – Armaan Kohli. Living up to everybody's expectations, VJ Andy takes away the award for Sabse Batuni Sadasya. He also receives an award for being the Dogla Sadasya. While Sangram Singh gets tagged with the Sabka Dost Award, Sofia Hayat will get the well-deserved Rotlu Award. The pretty looking Gauahar Khan gets the Chidchida Sadasya Award and Ajaz gets an award for being the Most Bevakoof Sadasya. Elli and Pratyusha will be awarded as the Most Nikamma Sadasya while Armaan bags the Gaddar Sadasya award adding yet another feather to his cap.
Were these awards fair? You tell us!