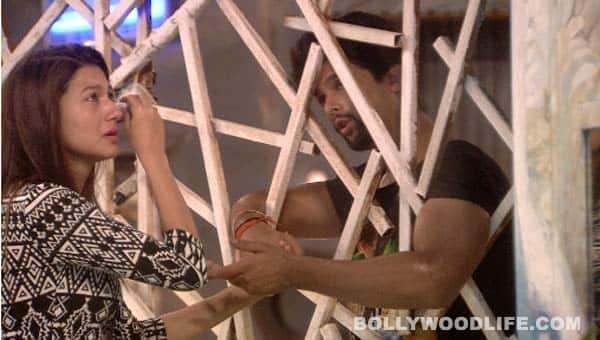 A new day in the Bigg Boss house and new challenges and changes in store for the inmates
Armaan Kohli is upset with Asif Azim as he suspects that the later is playing games against him. Is Armaan upset about Asif making fun of him in front of Tanisha Mukerji. Sangram has labelled Gauahar and Kushal – the Love birds. Gauahar is offended about this remark. Tanisha observes that Armaan is depressed and is trying her best to cheer him up by flirting with him. However, Armaan is in no mood for fun and wants to be left alone. Sangram and VJ Andy are seen discussing Gauahar and Kushal's growing fondness for each other even suggest that the two are dating. Armaan and Kamya are called into the confession room and is asked to select two names from jahannum who least contributed to the task; Kamya is asked to select two names who performed the best amongst the jannat wasis.  The hell-mates declare Kushal and Armaan as the weak contenders. Kushal is disappointed by this decision and is seen sulking. He requests Bigg Boss to call him in the confession room and meanwhile spends time crying in the washroom. Bigg Boss calls Kushal in the confession room and tries to console him but Kushal breaks down and says that he wants to quit the game. He later confronts Gauahar and tells her that he is unhappy with Gauahar for not defending him.
The Tabadla announcement will declare Armaan and Kushal as weak performers and Andy is chosen as the best performer. Others are asked to pack their bags and wait until the Tabadla takes place. Durinf the Tabadla Bigg Boss asks every hell mates to name jannatwasi they don't want to stay with while they are entering. Pratyusha will be the lucky one to stay back in heaven.  Like every week, Bigg Boss announces that the light at the wishing wall is on and the housemates can express their wish. Tanisha, Pratyusha and Kamya wish to get Arman on the heaven side and to their surprise, Bigg Boss grants their wish but asks them to select one person who will move to hell-side in place of Arman. Unanimously, they take Andy's name and the swap takes place.  After the swap, Gauahar is upset and crying as she wanted to go on the hell-side. Kushal tried to make her understand and asks her to be strong. After all that action-packed drama, the day finally comes to an end.
Will Gauahar-Kushal reunite like Tanisha-Armaan? We'll have to wait and watch!