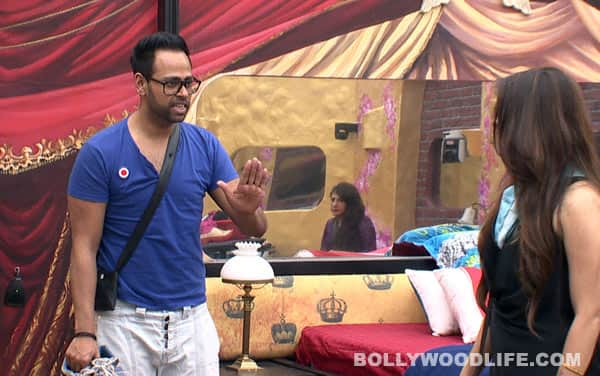 Finally after much trepidation, the day has finally arrived when the two sides have to cross boundaries in the Bigg Boss house (Tabadla)
Every contestant  in Bigg Boss 7 fears the day they are thrown in hell (Jahannum section), while some cry and whine about it, a few take it in their stride.
Armaan and Gauhar decide swaps
After Armaan Kohli and Gauhar Khan's swap last week, the housemates seem to be quite tensed wondering who will swap places this week. Early in the day, Bigg Boss calls Armaan and Gauhar in the confession room. He asks Armaan to nominate two Jannat waasis who have contributed the least in the task. On the other hand, Gauhar has to nominate two contestants who have contributed the most from the hell side. They are asked to go back to their respective teams and take everybody's consent before they announce the name.
VJ Andy back stabbed
The housemates on the heaven side discuss and finally decide to nominate Sangram Singh and Rajat Rawail who have contributed the least in the task. But when Armaan is asked by Bigg Boss, he nominates Sangram and VJ Andy. He justifies it by saying that Rajat is very unwell and it won't be the right decision to nominate him and instead he nominates Andy. On hearing this, Andy is stunned and left feeling back stabbed.
He is extremely upset with Armaan as he changed his decision at the last moment making him a victim of the situation. He said he doesn't deserve to be a bakra (scapegoat) when he has contributed the most in the task. Out of anger, Andy also bad mouths about Rajat saying that it's unfair that in spite of ill health he is still a part of the game. Being the captain, Tanishaa Mukerji tries to make him understand that this decision has been taken on humanity grounds and he should not take it personally.
Kamya miffed with Gauhar
On the other side, Kamya Punjabi is upset with Gauhar as she feels that Gauhar nominated people without taking anyone's suggestions. Gauhar tries to explain to her that she asked them about their decision but since she didn't get a proper response, she had to take the call on her own. Kamya replies saying that Gauhar mislead them by announcing that she is going to be the ultimate decision maker. After Gauhar leaves, Pratyusha Banerjee comments saying that she took this decision because she wants to be with Kushal Tandon and doesn't want to let go of him.
Rajat gets sick
Later in the day, Rajat's health gets worse as he hasn't had proper food for the last 3 days. Out of concern, the contestants start revolting against Bigg Boss and demand to take him out of the house. Finally, Rajat is called inside the confession room for a check-up and is given proper medication. Further, Bigg Boss calls Armaan and Tanishaa inside the confession room and asks them to take care of Rajat and to not react in such a strong manner. In the evening, Bigg Boss calls Shilpa Shirodkar inside the confession room and asks her to take forward the swap process. Andy and Sangram switch to the hell side while Gauhar and Kushal are welcomed on the heaven side with a garland and tika.
New Entry
After a long and tiring day when everybody is just about to hit the bed, Bigg Boss sends a mid-night surprise. The new entrant of the house, model Asif Azim makes a dramatic entry emerging out of the swimming pool.
The day finally ended with loads of surprises, controversies, issues and emotional drama.