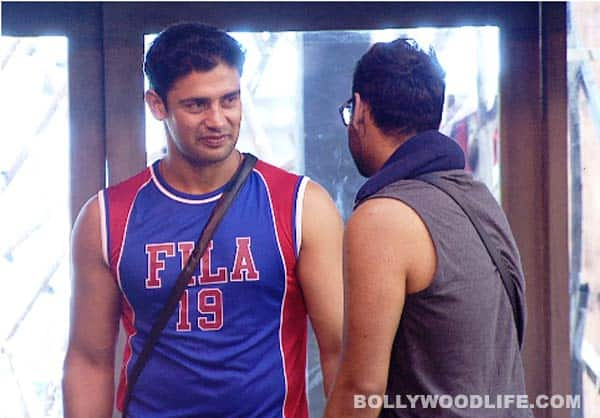 The vamps and cry babies have come out in the open and Bigg Boss 7 doesn't let us down even for a minute
The day starts on a very happy note for VJ Andy, as he is given his bag back, for which he thanks Bigg Boss profusely. Later during the day, Andy is seen sitting with his best pals Sangram Singh and Elli Avram, discussing his love life and relationships with them.
Language tutorials
Tutoring seems to be the new fad in the Bigg Boss 7 house. After Andy begins training Sangram in English, Asif Azim is seen teaching Tanishaa Mukerji to speak in Bengali. The duo seem to get closer on this account. During the latter half of the day, Tanishaa, Armaan Kohli, Shilpa Agnihotri and Anita Advani are seen talking about Armaan while he nicknames Sangram as 'Double Dholki'.
Gauhar Khan's waterworks
We also see some tears in the house when Gauhar Khan starts crying after Kamya Punjabi's remark that she will not accept tea from. Kushal Tandon is seen consoling her. Gauhar and Kushal's love story is the hot topic of discussion between Armaan, Pratyusha Banerjee and Tanishaa, where they disclose how uncomfortable it becomes for the other housemates in their presence.
Twist in the nominations
The day progresses to nominations, where this time Bigg Boss asks the housemates to give the names of two people that they want to save rather than eliminate. And this time both heaven and hell-mates were asked to give nominate. Since Bigg Boss is synonymous with 'Bigg' twists and turns, Bigg Boss announces that those contestants who got the least number of votes will be nominated for next week's evictions.
The day ends on a very musical note, with Ratan Rajput and Andy singing Ajeeb dastan hai yeh and dancing to the song. The housemates are seen talking and discussing about who voted for whom and how many votes each contestant must have got.
ALSO READ:
Bigg Boss 7 diaries day 12: Tanishaa Mukerji made captain again, Armaan Kohli heartbroken