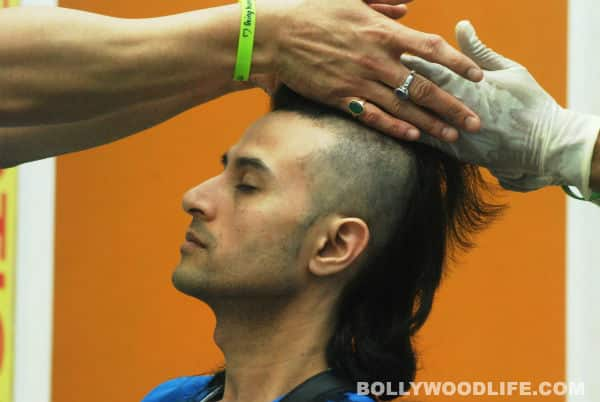 Bigg Boss has shown us his wicked best this week with 'scientists and guinea pigs' task
The day starts with an announcement from Bigg Boss about the second leg of the task and that he has found another treatment for the infected patients of hell and for the same Bigg Boss calls doctors Asif Azim and Armaan Kohli in the laboratory.
 Apurva Agnihotri gets a new hairdo
Placed in the lab was a barber's chair, and on the table a mannequin head with a mohawk hairstyle was kept. Bigg Boss then asked the doctors to give two names who will be part of this treatment and after thinking through, they decided to call Apurva and Sangram. After the patients were called in the lab, the doctors explained to them the treatment, wherein Apurva and Sangram had to get Mohawk style hair-cut and if they refused the hell-side will lose a point. Simultaneously, outside the laboratory the inmates were watching the on-goings through the TV and Shilpa was constantly shouting at Apurva to refuse from doing the task. Both, Apurva and Sangram thought that they will be fooled like Andy was fooled and agreed to take the treatment, and Apurva decided to go first. But when Asif and Armaan actually began to trim his hair, Shilpa began to react wildly and threw things around. She was even crying in the bathroom and Gauhar was trying to control her.
Armaan Kohli and Sangram Singh get into a war of words
After Apurva, it was Sangram's turn. Armaan, to mislead Sangram from getting the treatment, picked a fight with Sangram. He started insulting and throwing abuses at Sangram. Sangram, who always thought high of Armaan and treated him like a friend, was surprised by seeing Armaan's attitude. Armaan was almost successful in getting his mind changed, had Apurva not caught the lie and explained to Sangram that he is trying to divert his mind. After realising that the cat was out of the bag, Armaan was apologising to Sangram and was saying that he was just having fun and didn't mean whatever he said.
Shilpa Agnihotri gets hyper and breaks down after Apurva's 'baal-i-daan' 
When they came out of the lab, everyone was appreciating their sportiness and complimenting them for their new look. Shlipa was seen crying relentlessly after seeing his hair, but after some brave words from Apoorva, Shilpa tried to control herself and even said that he looks cool with the new look.
Tears continue to make their presence inside the Bigg Boss 7 house
Later in the evening Bigg Boss announced the end of task and congratulating both the hell-mates, for showing bravery and heaven-mates, for accurately diagnosing the symptoms and treating the patients.
Amidst all this, Elli was seen crying in the bathroom and Ratan was consoling her as Elli was missing her father since his birthday was coming up and this will be first time that she won't be with him for his birthday. To cheer her up, Sangram and Apurva were singing songs and even asked Bigg Boss if they could get a cake to celebrate his birthday.
ALSO READ 
Bigg Boss 7 diaries day 15: Armaan Kohli nicknames Sangram Singh Double Dholki