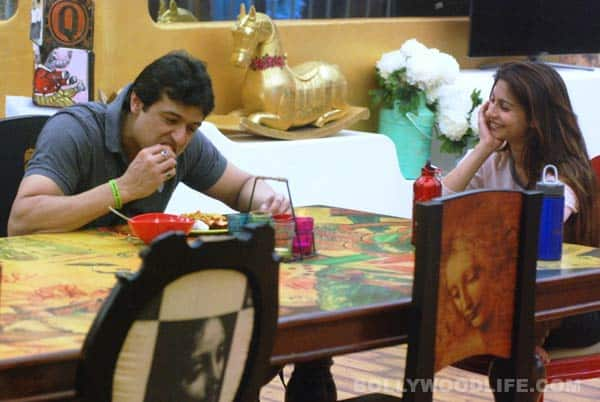 Sunday's episode of Bigg Boss 7 saw the host dole out some tips to the inmates
Tanishaa Mukherji and Armaan Kohli definitely were surprised when Salman Khan gave them some advice on Sunday, Sallu warned them that there were over 84 cameras watching every move of theirs. This comment from the Dabangg Khan has caused a rift in Armaan-Tanishaa relationship. Tanishaa maintains a safe distance from Armaan and is ignoring his friendly advances. Armaan on the other hand justifies his bond with Ms Mukerji and believes there's nothing wrong in being fond of someone. The duo is seen discussing Sallu's warning inside the house. Kohli decides to get his act right and apologises to the inmates. VJ Andy isn't convinced about Armaan's makeover, he feels that this is just a strategy that Armaan is using to garner more support and gather more votes.
In an emotional moment Kamya Punjabi breaks down during Ratan's eviction from the house, Kamya wants to go back home and meet her daughter. She opens up about her past and reveals that she got divorced just a month before she entering the Bigg Boss house. Kamya feels guilty about leaving home her four year old daughter. The mood in the house gets a little playful when Andy tells that he will cook bad food for the Jahannum wasis and better food for the Jannat-ites if he were to swap places. The Jannatwasis on the other side are tell that they miss staying in Jahannum and enjoying a peaceful life.
In the evening its celebration time inside the Bigg Boss house, the inmates are surprised on receiving sweets and food on the occasion of Dussehra. Bigg Boss sends traditional Bengali sarees and kurtas for housemates and perform the puja. Everybody from Jannat and Jahannum get together in the garden area and make arrangements for puja and aarti. The inmates perform Dhunuchi dance and celebrate together.
Bigg Boss makes the announcement about nominations later in the evening. Tanishaa is not allowed to vote after Ratan voted against her. After Bigg Boss announces the five names who are nominated, Gauahar gets a special power to save one person and nominate another. Who will Gauahar save? Will Armaan-Tanishaa friendship blossom or wither?