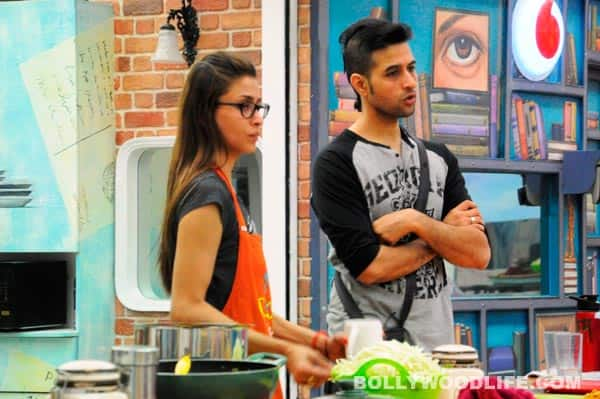 The barrier is gone and there is no visible divide, but that in no way means that the Bigg Boss 7 house is united
In the morning, the atmosphere in the house is quite cheerful but the fights and the issues are just waiting to come break out.
Vivek Mishra – the Yoga guru
Encouraged by Vivek Mishra – Apurva Agnihotri, Sangram Singh, VJ Andy, Asif Azim and Armaan Kohli get together in the garden area and practice yoga. Vivek explains to them that yoga would help increase their self-confidence and they should practice it regularly. While the housemates are busy with yoga classes, Tanishaa Mukherji walks in and starts making fun of everybody. Vivek gets upset with Tanishaa and is seen complaining about this to Shilpa Agnihotri and Apurva. He tells them that he will never appreciate it if anybody makes fun of his profession. Later Shilpa mentions that she is unhappy with Tanishaa's behaviour and that she is becoming Armaan's puppet. She is always talking on Armaan's behalf and does not seem to have a stand of her own which will eventually spoil her name.
Walk the plank
Later in the day, Bigg Boss announces a task where the housemates have to rate themselves on the scale of 1-12 based their achievements and popularity. Planks numbered from 1-12 are placed in the garden area and the housemates are asked to stand against it. As a captain, Gauahar Khan is asked to explain the task to everybody after which they have to unanimously decide on the names to match with each number. The person who gives a valid justification of why he/she deserves no.1 position will get to stand against the plank numbered as one. Rest will follow the same procedure for other numbers.
After mutual consensus, Pratyusha Benerjee gets to stand at number one position while Vivek gets the last. The next step is to provide significant answers on why he/she is more popular than the person on his/her right and less popular that the person on his/her right. When everybody is done with the task, Bigg Boss asks Pratyusha to nominate two contestants who are eligible to become the next captain of the house. She takes   Armaan and Apurva's name and through a ballet system, Apurva becomes the captain of the house.
Pratyusha and Kamya try to split Armaan and Tanishaa
In the evening, Pratyusha tries to sort out issue with Armaan and initiates a conversation with him. She tells him that she does not like the fact that he has been staying away from her and Kamya Punjabi and she feels the reason is Tanishaa. She also feels that Tanishaa is manipulating him and owing to that he has changed as a person. Armaan tells her that there have been lot of instances where Kamya and she have ignored him and made fun of him in front of other members of the house. Pratyusha asks him to give it a second thought.
After their conversation, Armaan tells Tanishaa that Pratyusha and Kamya are of the opinion that he is being influenced by her and that is the reason why he is going away from them. To this Tanishsa says that she is being portrayed in a bad light and Armaan says that he doesn't care as long as they are together.
Kamya's surprise win
In the evening, Bigg Boss introduces a surprise task just when everybody is having dinner. Housemates are given things to sell to the newly elected captain Apurva. Whosoever is able to impress Apurva and sell their product will win a certain amount with which he or she will be able to buy things that will be made available in the store room. Everybody makes an attempt to sell things to Apurva in the garden area. While Andy lures him with his black shinny shoes, Elli Avram tries to sell him her favourite Froggy. Kamya gets to sell a 'belan' while Shilpa tries to convince him to buy a scooter.
But at the end of the task, Apurva declares Kamya to be the winner and she gets to pick one thing of her choice from the storeroom. To Kamya's surprise, she finds an envelope with her daughter's birthday pictures. She bursts into tears and quickly goes and hugs Apurva thanking him. While Kamya is happy and excited with this gift, Andy is being sad and sulky on not winning the task. He tells Apurva that he always becomes the victim of circumstances even when he puts his best in the task. He complains about it to Kamya and Sangram as well. As the day comes to an end, Kamya and Pratyusha are seen talking about the Armaan-Tanishaa episode. Kamya tells her that she was in two minds when she had to choose between Armaan and Apurva for captainship but she decided to vote for Apurva because of Armaan's indifferent behaviour. She also tells Pratyusha that she is concerned about Armaan and does not like to see him in this condition.
ALSO READ
Bigg Boss 7 diaries day 32: Will Tanishaa Mukerji and Armaan Kohli get back together?