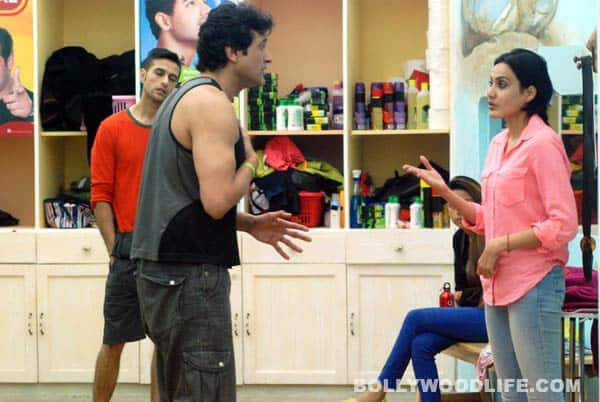 Anger and abusive language is a clear indication that the person needs help, but  in reality shows these emotions is what brings the TRPs, no?
Bigg Boss 7 is finally witnessing some hardcore action, but how long will it last?
All is not well
The housemates wake up to the song – All Is Well in the morning though there is nothing that is going well inside the house. The fights and misunderstandings that seem to be taking root in the house on a daily basis are taking a toll on everybody. The only affected soul is Heaven – the dog who is seen quietly waking Kushal Tandon up while he is still sleeping with his quilt on his face.
Kushal – the weakling
Later in the day, Bigg Boss announces the luxury budget task for the week. According to the task, select members of the house – Pratyusha Banerjee, Armaan Kohli, Kushal, Gauahar Khan and Sangram Singh have to get into a box labeled with their names and spend maximum time in their respective boxes. They are to sit inside the box as soon as the buzzer rings and survive inside it till the end of the task. They are allowed to go to the washroom but have to get back inside the box soon thereafter. Rest of the members are asked to distract and instigate the ones who are inside the box and get them out of it. Kushal becomes the first one to give up and come out of the box.
Pratyusha  – the spoilsport
The boxes were kept in the garden area and the inmates can go inside the box but on all fours. Gauahar makes an attempt to open the door with much effort and enters the house followed by others. While they are doing this, other housemates try to mislead them to stop them from entering the house. VJ Andy starts troubling Pratyusha and she overreacts by saying that she is getting hurt. She gives up and leaves the box.
Kamya and Armaan's squabble
When Andy and Kamya are trying to trouble Armaan, he gets annoyed and asks them to back off. Agitated by Kamya's behavior, Armaan starts abusing her and warns her to stop doing it instantly. Kamya does not appreciate Armaan's behavior and burst into tears. Kushal and Andy try to calm her down and asks her not to waste her tears on a man like Armaan. She immediately pulls herself together and gets back to doing the task. Kushal, Elli Avram, Kamya, Asif Azim and Andy start forcefully banging on Armaan's box to irritate him. While doing so, Elli gets hurt as Armaan makes an attempt to move.
Armaan hurts Elli
When everybody start blaming him for hurting Elli, Armaan gets furious, comes out of the box and starts abusing everybody. Tanishaa Mukherji and Apurva Agnihotri try to control him but still he doesn't stop and further picks up a fight with Kushal, Asif and Kamya. Apurva tries to pacify him but he pushes him back and continues fighting. All this while, Tanishaa is supporting Armaan and pays no heed to anybody else. She decides to believe in Armaan and asks everybody to stop blaming him.
Armaan boycotted
The housemates later decide to boycott Armaan for his bad behaviour and ask Bigg Boss to take action. Bigg Boss makes an announcement to clarify that it was an accident and Armaan did not do it deliberately. He also warns Armaan to mind his words when he is angry and should not say something that will intentionally hurt anybody. Further, Armaan apologises to Elli by going down on his knees. He also apologises to Kamya by touching her feet and chokes up while doing so. Kamya hugs him and tells him that she did not like what Armaan said but she will try and forgive him.
Last men standing
In the evening, when Gauahar and Sangram are still doing the task, Asif tries to scare Gauahar by putting a grasshopper in her box. While he is doing this, Andy and Kamya start laughing and ask Asif to put a lizard in the box. Gauahar gets scared further and starts screaming and crying. She tells them not to do it and opt for something else to do in the task. When Kamya is trying to put dirty water in Sangram's box, they get into a fight where Kamya says that nobody is allowing them to do the task and taking everything very personally.
At mid-night, when Sangram and Gauahar still don't give up, Kushal and Andy start putting water in Gauahar's box. Gauahar and Sangram finally give up and the other inmates win the task.
ALSO READ:
Bigg Boss 7 diaries day 35-36: Is Kushal Tandon picking on Vivek Mishra?