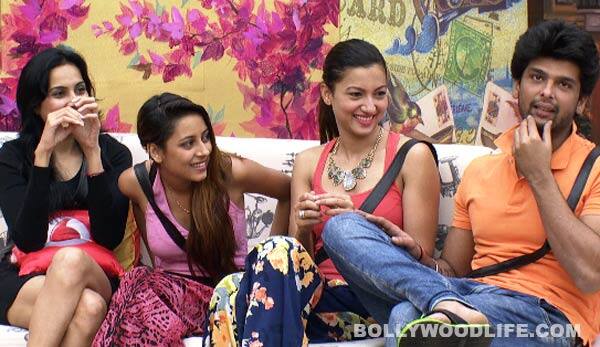 A cheerful day in Bigg Boss house after a long time the inmates wake up  to the song Havan Karenge song from Bhaag Milkha Bhaag
All's not well in the lover's Gauahar Khan-Kushal Tandon's paradise. At least that's what Gauahar believes. Gauahar feels that Kushal is giving her a cold-shoulder. The lovebirds are seen chatting in the kitchen area,  when Gauahar confronts Kushal about his behaviour towards her, she feels Kushal is being indifferent and not talking to her. Gauahar repeats it despite Kushal assuring her that all's well. Gauahar tries hard to make her alleged boyfriend smile by mimicking him.
On the other side Tanishaa Mukherji and Armaan Kohli are having a serious discussion on Salman Khan's message in the garden area. Tanishaa clarifies her stand and declares herself and Armaan as each others confidants. Both believe that there's nothing wrong in being close.
VJ Andy is in a visibly foul mood in the morning and picks on Mickey Virus actor  Elli Avram. He makes pass at Elli's sense of style. The real reason why Andy is upset is Sangram Singh, who hasn't kept his promise to help VJ with his stretching. Andy confronts Sangram about the same. Later however Andy cheers up and decides dole out some singing lessons to Sangram and Asif. Asif starts singing with his eyes closed while Andy and Gauahar cant stop giggling.
Bigg Boss summons Apurva Agnihotri into the confession room and the captain is asked to report the names of three contestants who did not cooperate during his tenure as a captain. Bigg Boss announces the three names give out by Armaan – Kushal, Elli and Armaan. The housemates are now asked to choose a captain between these three to make them realize the challenges a captain faces in the house. Kushal is elected as the new captain after the ballot.
This week's task  is a havan that's the inmates have to conduct in the garden area that has to last all night. It's mandatory for two housemates to be present near the havan kund and perform the task. Popular face reader Janardhan Baba makes a surprise entry into the house. Bigg Boss introduces him and informs the inmates that Baba will spend sometime with the contestants and predict their future in the house by face reading. All contestants including Elli, Sangram, Kushal, Andy, Pratyusha and Kamya are excited to know if they will emerge winners and are seen consulting him. However Baba's real confessions only happen in the confession room when Bigg Boss asks him to predict the four finalists of this season. Who will make it to the top five? Will Baba's predictions come true? Watch this space for more…
View pics!