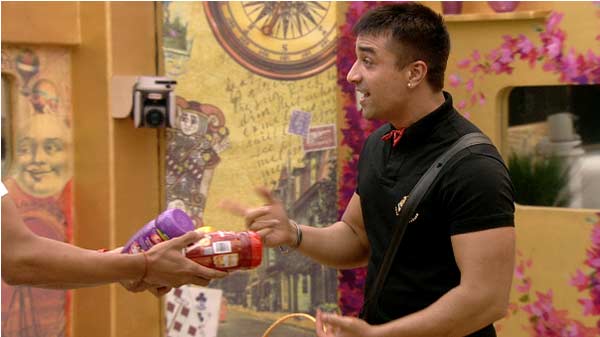 A new sun rises with a new surprise for the contestants of Bigg Boss 7
The self-proclaimed Alpha male of the house, Ajaz Khan, is stealing all the limelight with his one-liners and comical acts.
Candy Brar bitches about Ajaz Khan
Candy Brar narrated her experience of living with Ajaz in the Caravan for 4 days. She tells the contestants that he had insisted that she give him a massage which upset her immensely. Hearing this, Armaan Kohli commented that she should have given him a massage with her footwear! Even Armaan's special friend in the house, Tanishaa Mukherji, expressed her annoyance with Ajaz saying that she would have hit him due to his irritating ways.
Why no one likes Ajaz Khan
Now that Candy and Ajaz have moved into the house, the Caravan has become a hot topic amongst the other contestants. Gauahar Khan claims that she thinks Candy is a really sweet person and that Ajaz is quite sneaky. Adding to this, Kamya Punjabi says that she believes Ajaz will be unable to play games with the contestants. On the other side, Ajaz is openly flirting with Pratyusha Banerjee while trying to get intimate with her. He also hints that he would be open to dating her whilst bringing up her recent break-up.
A special wish
Bigg Boss announces that the lights for the Wishing Wall are on and housemates can profess their wishes. Hearing this, Gauahar quickly runs to the wall and wishes for Kushal to be brought back into the house. Getting emotional, Ajaz wishes for a picture of his son Alexander, who he is missing terribly, while Armaan wishes for Tanishaa to maintain a safe distance from Ajaz.
Ajaz separates Tanishaa and Armaan
Later, while speaking to Tanishaa, Armaan warns her about Ajaz and asks her to stay away from him. Tanisha gets annoyed at this point and mentions that she does not like Ajaz, so Armaan has nothing to worry about. Armaan gets upset and walks off leaving Tanishaa feeling awful because she believes Armaan has made a wrong assumption and behaved rudely with her.
Diwali cleaning
Prepping for Diwali, a cleaning task is announced. The house is divided into three teams who are required to clean the house within a time period of 30 minutes. As all the housemates begin cleaning, Armaan remains exempt and judges the overall task to decide who has performed the best.
Ajaz – the sevak
During the course of the day, Sangram Singh's wish to the wishing wall gets fulfilled. As a compensation for granting the wish, Sangram was asked to choose a sevak from amongst contestants and he chose Ajaz to do everyone's bidding. Ajaz, however, refused to perform duties including picking up dirty clothes after the contestants and putting their footwear back in place. Armaan, being the captain of the house, quietly explained to Ajaz that he was required to follow the rules and perform all the assigned duties without complaining or cribbing. However, Ajaz considered Armaan's advice as interference.
Armaan continued to attempt to explain his point of view to Ajaz, who refused to bear any further interference and snapped back at Armaan. As captain, Armaan told Ajaz to mend his ways because, as a newbie, he needed to get accustomed to the ways of the Bigg Boss house before pointing fingers at anyone. Ajaz continued to vent his anguish and during his temper tantrum, even spoke to Gauahar in a very harsh tone. Not finding Ajaz's behavior appropriate, she asked him to lower his volume. To bring Ajaz under control, Bigg Boss called Armaan to the confession room and gave him the authority to ensure that Ajaz did justice to the task and performed all his duties well. Taking the comments personally, Ajaz starts arguing with Armaan which eventually lead to a yelling match between the two.
Peace prevails
As the two finally calm down, Ajaz quietly says that while he is not scared of Armaan, he will follow the rules of the Bigg Boss house. To bring in some much needed comic relief, Ajaz takes the role of the sevak to the next level by carrying out the task in a hilarious way.
As another day draws to a close, a question that stares everyone in the face is will Ajaz's behaviour make him the next Kushal? Only time will tell…
ALSO READ: Bigg Boss 7 diaries day 40: Have lovebirds Gauahar Khan and Kushal Tandon split? View pics!