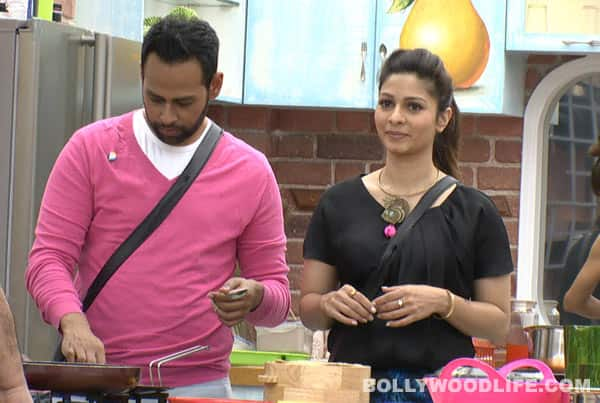 The fifth day on Bigg Boss 7 is filled with melodrama
Gauhar Khan has shifted from Jannat to Jahannum and the hell-mates are trying try to adjust with her.
Gauhar and Pratyusha argue
While everybody was sitting in the garden area, Gauhar commented that Pratyusha Banerjee is a kid. She passed remarks on Pratz' habits and mannerisms saying that she had expected her to behave like a mature individual. When Pratyusha came to know about it she got upset and asked Gauhar not to interfere in everyone's life. Gauhar was surprised by her statements but immediately apologised.
The first Captain
Later in the day, Bigg Boss calls Gauhar and Apurva Agnihotri to the confession room. Bigg Boss asks Gauhar and Apurva to nominate two people from the Jannat who deserves to be the first captain of the house. After mutual consensus, they nominated VJ Andy and Tanishaa Mukerji. On the other side, Bigg Boss asks the heaven-mates to vote for a captain between Andy and Tanisha through a ballet box. After counting the votes, Bigg Boss announces Tanisha as the first captain of the house.
Post this, Andy was seen getting upset over Tanisha being chosen as the captain. He discusses this with Gauhar and mentions that the decision was unfair and everybody is playing a game.
Elli Avram in tears
Later in the evening, when Armaan Kohli and Pratyusha are having a conversation, Elli joins in and they start making fun of her again. But this time Armaan crosses the limit. Elli gets upset and tells Arman that she will slap him if he doesn't put an end to his behaviour. Elli's statement upsets Armaan and he vents out his anger. Elli bursts out crying and everybody tries to calm her down. This incident then goes on to become a topic of discussion amongst the housemates. Especially Andy and Sangram Singh, who are furious with Armaan's remarks.
Wishing Wall
The day ends with a surprise where Bigg Boss introduces the wishing wall for Jannat-waasis where they can express all their wishes when a green light is on. Depending on the need of the hour, Bigg Boss will pick and choose their wishes and make them come true.
Keep watching this space for daily updates
ALSO READ