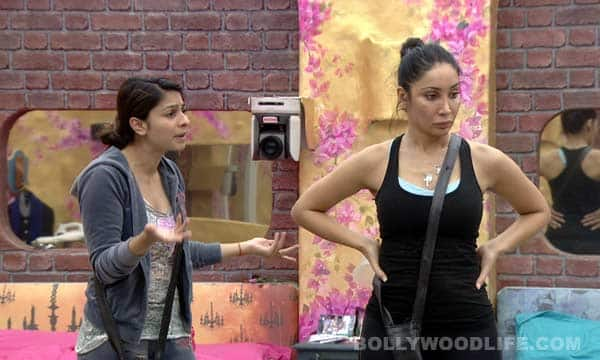 Cat fights continue to make their presence inside the Bigg Boss 7 house
Armaan Kohli and Tanishaa Mukherji are feeling sidelined by the other housemates, but today they are standing strong and have support from most people in the house.
Sangram Singh feels guilty
Early morning, Sangram Singh talks to Elli Avram about his fight with Armaan Kohli. He also tells her that he is not feeling good that he and Armaan are not on talking terms anymore.
Catfight between Tanishaa Mukherji and Pratyusha Banerjee
Tanishaa and Pratyusha get into a fight over work when Tanisha calls her kaamchor. Pratyusha gets is annoyed and snaps back at Tanishaa saying that she back off and stop interfering in her work. Pratyusha complains to Kamya about the fight, but to her dismay Kamya does not encourage her this time. Kamya told her that she should be perfect with her work and not let people comment on her work.
Elli Avram re-elected as the captain
Bigg Boss makes an announcement with reference to captaincy and asks everybody to come together in the living room.. Elli being the captain of the winning team had to take names of two contestants who would be eligible to become the next captain of the house. Elli with much enthusiasm nominates herself and Tanishaa for captaincy. Instead of holding a ballet procedure, Bigg Boss calls for an open ballot and asks the housemates to choose their new captain. With maximum votes coming in favor of Elli, she is re- elected to be the next captain. Elli decides to hold a meeting with all the housemates and segregate work amongst everybody. After lot of ifs and buts, they finally arrive at a mutual consensus. Gauahar and Kamya are surprised as they had expected Elli to take Andy's name instead of Tanishaa. They tease Andy in the garden area to which Andy replies that he has given that chance to someone else.
Wishing Wall
In the evening, Bigg Boss makes an announcement that the light of the wishing wall is on and they are free to make a wish. Sangram who is assigned the task to sweep the house wishes for a jhaadu with an extension, while Armaan asks for chicken for all the housemates. Sofia requests Bigg Boss to get Kamya to meet her daughter. Bigg Boss later calls all the housemates in the living area and announces that he has decided to fulfill Sangram and Sofia's wish but under one condition. They have to take on a simple challenge where they are made to make each other laugh. Out of the two, whosoever is able to resist their laughter wins the task and gets his or her wish fulfilled. Sangram defeats Sofia and wins a jhadoo as a reward.
Later, the housemates are given a chance to fill their pockets with luxury budget items. They are introduced to an activity room where the members of the winning team have to sit on a mechanical bull and collect cards that had the name of the luxury items written on it. On by one, all the six members of the winning team make an attempt and at the end of it manage to get maximum items. The housemates celebrate over winning the biggest luxury budget till date.
Also read: Bigg Boss 7 diaries day 52: Sangram Singh spills the beans about his fake fight with Armaan Kohli