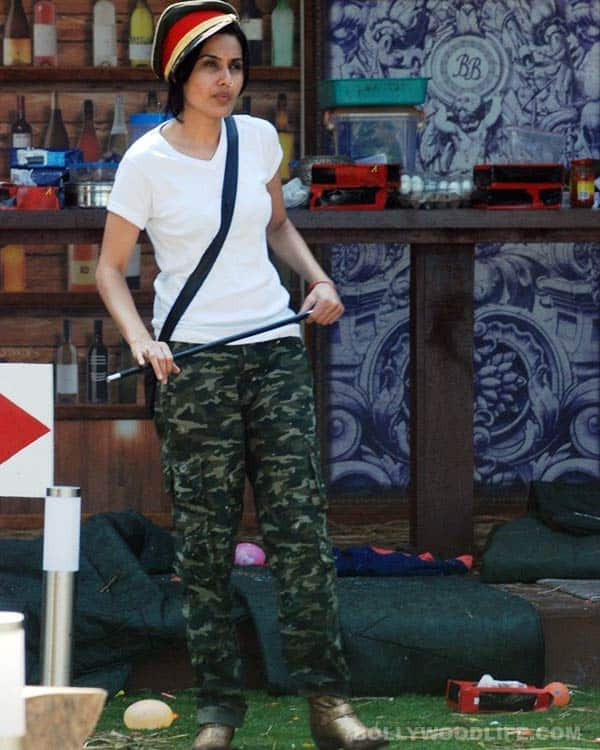 skip advertisement
Fights, drama and rona-dhona seem to be never ending inside the Bigg Boss 7 house
The housemates wake up to the song Bhaag Milkha Bhaag and are motivated and all charged up to carry on with the army task. They were up all through the night as they sacrifice their sleep in order to protect Mount Bigg Boss.
Kamya Punjabi gets a secret task from Bigg Boss
Kamya who has been staying in the bed room area all night is given a secret task by Bigg Boss early in the morning. According to the task, she has to act tough with the commandos and force them to remove her from the General's post. She later enters the garden area and the housemates are quite surprised to see her. She enters with an aggravated face and calls all the commandos to perform the drill.
Armaan Kohli at his arrogant best
Armaan refused to do the drill as he has been up all night performing the task. He prefers to stay on the treadmill so that he gets exempted from the drill. But Kamya notices Armaan's displeasure and commands him to be a part of the drill but Armaan point blank refuses to continue with the task and storms off. Kamya does not appreciate Armaan's arrogant behaviour and declares his court martial.
Housemates get punished by Kamya
Further, Ajaz Khan and Tanishaa Mukherji get punished for not paying attention to General Kamya and talking without her consent. Elli Avram also joins the league and gets punished for not taking Kamya's orders seriously and mocking her. She makes her do sit ups and apologise for her mistake. General Kamya is unhappy with Gauahar Khan as she tried to take her place in her absence and rule over the army. Kamya also tells her that she had expected her to support her and convince other commandos to save her from the kidnappers.
Verbal spat between Ajaz Khan and Sofia Hayat
Later in the day, another attack takes place and the commandos are able to tackle it successfully. In the course of the war, Gauahar gets injured as VJ Andy is unable to protect her and gets hit on her head. Ajaz breaks the rules for the second time and gets punished again. Kamya asks him to stay in the swimming pool barefoot till her next order. Elli is found giggling at Ajaz and is asked to join him in the swimming pool. After some time, Ajaz comes out of the pool and refuses to continue with task. Kamya orders him to resume his role otherwise the whole army will get punished. Sofia Hayat shouts at Ajaz and asks him to go back in the pool. He does not take Sofia's advice in the right spirit and blasts her, making personal remarks. They both get into a fight at the end of which Sofia bursts into tears.
Kamya wins the secret task
In the evening, Bigg boss makes an announcement and asks for the general feedback about their General. While few of them are happy with her service, the majority demands for her replacement. Following this, Bigg boss tells the housemates about Kamya's secret task and congratulates her for winning it. She further apologises to everybody for her behaviour and tells them that she was just performing her secret task and did not intend to hurt anybody.
Sangram Singh advises Ajaz to calm down
By the end of the day, Ajaz is seen giving justification to Sangram and Pratyusha about his behaviour with Sofia. Sangram advices him to calm down and have control over his anger. After the task ends, the housemates finally come out of the commando mode and get back to their normal lives.